In 2013, we reported on nearly 200 new products and services of interest to lawyers and law office administrators in TL NewsWire. But only 25 of these products can win our TL NewsWire Top 10 Products or TL NewsWire Top 25 Products awards. Below I'll reveal the winners for 2013.
But first let me explain how we — actually you — determine the winners. Every news report about a new product in TL NewsWire contains a trackable link to that product's home page. Simply put, the 25 products with the most clicks win. A click is like a vote because it means you want to learn more about the product and perhaps buy it. Thus, we consider it more meaningful than if we were to subjectively choose winners. (We can easily identify click fraud. Thankfully, none occurred this year.)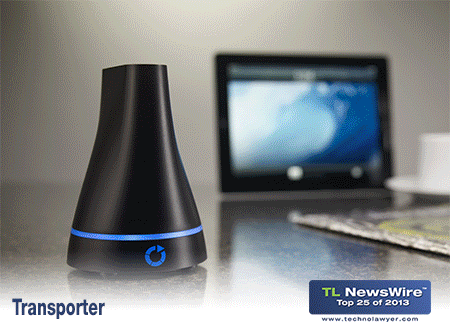 WINNERS OF THE TL NEWSWIRE TOP 10 PRODUCTS OF 2013 AWARD

Congratulations to the 10 hottest products of 2013 ranked in order by most clicks!
1. Transporter
Given the popularity of Dropbox, Transporter's first place finish is not surprising. It combines the ease of use of Dropbox with the security of a file server because it resides in your home or office. If you set up two Transporters in different locations, you can use it for offsite backups.
Clearly, lawyers remain interested in a better mousetrap for tracking billable time. TIMBS prompts you to record a time entry on your iPhone after finishing a potential billable activity such as a telephone call or email message involving a client. It's smart enough not to bug you when your kid calls from college to ask for money (though perhaps it should).
The iPad has become a polarizing device among lawyers. One camp think it's a toy while the other camp uses it for serious work such as taking notes. But both camps care about security. Unlike most iPad note-taking apps, Penultimate 4.1 enables you to create multiple accounts for your notes and password protect them.
Those who work in law offices feel like Lucille Ball on the factory line — except with too many documents to organize rather than chocolates. This explains why so many of you found FileCenter Professional 8 intriguing. The new version features scanning automation technologies.
Certainly the most unique scanner we covered this year, the ScanSnap SV600 enables you to scan three-dimensional objects such as books. Fujitsu claims that the overhead scanning unit enables you to scan books faster than with a traditional flatbed scanner.
The first Livescribe pens digitized onto your PC the notes you took on the company's special paper. This new model performs the same trick except with your iPad. The accompanying app makes your notes searchable as well. Thousands of lawyers may chuck their iPad stylus into the garbage if the Livescribe 3 Smartpen lives up to its promise.
Fujitsu replaced the popular ScanSnap S1500 with the ScanSnap iX500, adding mobile smarts in the process. You can scan to your iPhone for example. It earned a TechnoScore of A- in our SmallLaw newsletter.
8. Pertino
An increasing number of cloud services have their sights set on serving businesses, especially those like law firms with security concerns. Pertino provides a cloud-based virtual private network (VPN). This enables you and your colleagues to securely access your firm's documents from anywhere without the complexity of a hardware-based VPN.
A remote desktop app for controlling your Mac or PC from an iPad, Parallels Access broke new ground with its touch controls. This earned it a TechnoScore of A in our SmallLaw review.
10. Minute7
Minute7 placed in the top 10 because it essentially serves as a bridge. It's a cloud application for billable time entries that connects to the Windows version of QuickBooks. It earned a TechnoScore of A+ in our SmallLaw review.
WINNERS OF THE TL NEWSWIRE TOP 25 PRODUCTS OF 2013 AWARD

Congratulations to the next 15 hottest products of 2013 ranked in order by most clicks!
The new version of this document assembly add-on for Microsoft Word creates an Instant Database of variables, which makes it faster to create documents for the same client in the future and easier to create new document templates.
12. NoteSuite 2.0
Perhaps the most ambitious note-taking iPad app of the year, NoteSuite offers handwritten and typed notes, PDF annotations, and a task manager. Recognizing that people increasingly have an iPad in the office and another one at home, NoteSuite syncs through iCloud.
Document management giant World Software began offering a hosted version of its Worldox GX3 software this year, making it accessible to small law firms that don't want to manage their own servers. It earned a TechnoScore of A- in SmallLaw.
14. NeatConnect
Sporting a clever design that eliminates the need to constantly adjust paper size guides, the NeatConnect document scanner connected with TL NewsWire subscribers.
Contemporaneous time capture prevents loss of billable time, but it's drudgery. Attorney Timekeeper offers a number of technologies that aim to make it less onerous and even fun.
16. ActionStep U.S. Litigation Pack
Not every law firm can afford a consultant to customize their practice management system. ActionStep U.S. Litigation Pack consists of preconfigured apps that add customizable workflows to ActionStep for six litigation practice areas. You can buy the apps a la carte.
17. Remarks
Zoom boxes seem like an interim technology in iPad note-taking apps. It's unnatural not to write where your writing appears. Remarks enables you to zoom in and out where your writing appears and also provides extra fine virtual pen tips so that your notes don't look like you used finger paint. There's also an optional zoom box.
18. Cubby
Dropbox creates a special folder of its own that you can access from multiple devices. By contrast, Cubby enables you to transform any existing folder on your computer or even a file server into a cloud folder that you and others can access from multiple devices.
19. Foxit PhantomPDF Business 6
What began as a free PDF viewer has since blossomed into an Adobe Acrobat alternative for creating PDF documents and much more. Foxit PhantomPDF Business' award proves that the popularity of PDF software among legal professionals endures.
20. LexisNexis Time Matters 13
It's a simple fact of law firm life that clients want access to their documents — now! The new version of Time Matters provides a secure client portal powered by WatchDox. As an added bonus, providing a self-service client portal should dramatically reduce email and telephone calls from clients.
21. Calls Accountant
We publishers serve our audience, not ourselves. Most TechnoLawyer members use Windows, iPad, and iPhone, and all of them use the web. So we primarily cover products on these four platforms in TL NewsWire. But Android is in fifth place, which explains why we covered this Android automatic billing app and why it won our award.
22. Clio for iPhone
Law firms started running their practices in the cloud in 2008 thanks to the launch of Clio that year. This year saw the launch of an equally important product — Clio for iPhone. Thanks to this iPhone app, you can now carry your practice in your pocket.
23. DocMoto 3
Some people think email is a problem. We think it's the best technology ever invented. It's actually both. The new version of DocMoto, a document management system, enables you manage email along with all of your firm's other documents. Once you get a handle on your email, you'll fall in love all over again.
24. LexisNexis TextMap App for iPad
We introduced litigators to Windows transcript software TextMap when it launched so it was only fitting that we introduced litigators to the iPad app this year. The desktop and iPad versions get along swimmingly according to LexisNexis, enabling you to begin reviewing a transcript in one and finish in the other.
25. NetDocuments Professional Plus Edition 13.2
Cloud document management pioneer NetDocuments beefed up its email management and search tools in this release. It also announced integration with Clio. Thanks to modern programming languages, it's easier than ever to create so-called APIs that facilitate such integrations.
How to Receive TL NewsWire
So many products, so little time. In each issue of TL NewsWire, you'll learn about five new products for the legal profession. Pressed for time? The newsletter's innovative articles enable lawyers and law office administrators to quickly understand the function of a product, and zero in on its most important features. The TL NewsWire newsletter is free so don't miss the next issue. Please subscribe now.