Today's issue of TL NewsWire covers a duplex scanner with a few wireless smartphone and tablet tricks up its sleeve (see article below), a high-volume production scanner, a cloud application for tracking your time, backup software that you can monitor from your iPad and iPhone, and a suite of products for corporate legal departments. Don't miss the next issue.
SCAN TO YOUR POCKET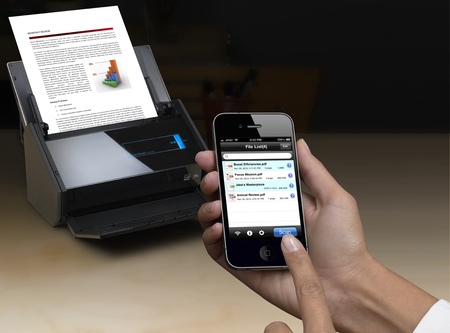 No matter how many services give you the option of paperless statements, it seems like you end up with just as many documents to scan anyway. On top of that, you've now got more devices than just your computer on which you might like to have your scanned documents. It's little wonder that scanners remain a perennial hot topic among lawyers. So expect a whole new crop of scanners this year with features we never knew we needed a few years ago, but have since become indispensable.
ScanSnap iX500 … in One Sentence

Launched earlier this week, Fujistu's ScanSnap iX500 is a desktop document scanner.
The Killer Feature

Using the free ScanSnap Connect app, you can scan wirelessly over your WiFi network to your iPad, iPhone, and/or Android device in PDF or JPEG format. WiFi scanning also works with Macs and PCs. Alternatively, you can connect the ScanSnap iX500 to your computer via USB (the scanner supports USB 3.0).
If you choose PDF format, the ScanSnap iX500 can make the PDF files searchable on the fly without any noticeable reduction in scanning speed. The software bundle includes ABBYY FineReader, which you can use to make previously scanned image-only PDF documents searchable.
Other Notable Features

The ScanSnap iX500 scans duplex at up to 25 pages per minute (50 images per minute) — even at 300 dpi (you can scan as high as 600 dpi if needed). The scanner weighs 6.62 pounds, and measures 11.5 x 6.2 x 6.6 inches. Its automatic document feeder holds up to 50 sheets.
Improved paper detection and feeding technologies minimize jams and crooked scans while improved processing technology removes artifacts and improves OCR accuracy.
In addition to PDF and JPEG, you can scan directly to Microsoft Word format. And in addition to your computer, tablet, and smartphone, you can scan to SharePoint as well as to cloud services such as Evernote, Google Drive, and SugarSync.
What Else Should You Know?

In addition to ABBYY FineReader, you'll also receive a copy of Adobe Acrobat X Standard as well as software for business cards, adjusting the scanner's settings, and organizing your documents. A special Deluxe version of the ScanSnap iX500 includes Rack2-Filer Smart, a more sophisticated document management program. The ScanSnap iX500 has an MSRP of $495 ($595 for the Deluxe model). Learn more about ScanSnap iX500.
How to Receive TL NewsWire
So many products, so little time. In each issue of TL NewsWire, you'll learn about five new products for the legal profession. Pressed for time? The newsletter's innovative articles enable lawyers and law office administrators to quickly understand the function of a product, and zero in on its most important features. The TL NewsWire newsletter is free so don't miss the next issue. Please subscribe now.