Today's issue of TL NewsWire covers an iPhone practice management app with a user interface designed for iOS 7 (see article below), a PACER alternative, desktop search software, and an iOS recording app and optional transcription service. Don't miss the next issue.
IPHONE APP OFFERS COMPREHENSIVE ACCESS TO YOUR PRACTICE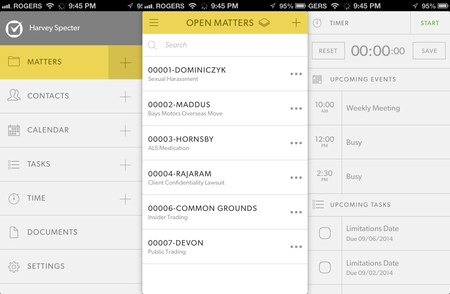 For years, lawyers have clamored for iPhone practice management apps. Break out the bubbly because the golden age of such apps has begun. On the iPhone, user experience — especially fast access to features — is just as important as the features themselves. With this in mind, the developers of the newest practice management iPhone app have created several user interface flourishes.
Clio for iPhone … in One Sentence

Launched this week, Clio for iPhone is a native iPhone app for the Clio practice management system that has a user interface designed from the ground up for iOS 7.
The Killer Feature

Did you know that Apple didn't invent "pull to refresh"? However, Apple has since adopted it in Mail and other apps because it's so intuitive. Don't be surprised if Apple also copies Clio for iPhone's "Triptych Layout," which consists of two slide menus on either side of the screen. It's designed to reduce the number of taps required to access features.
When you swipe from left to right, you can access Clio for iPhone's core features, including Matters, Contacts, Calendars, Tasks, Time Entries, and Documents. Swiping right to left reveals a task menu that includes a timer, your task agenda, and most important tasks as well as recent matters you've accessed. Just tap to access any item in either triptych area.
It's no surprise that Clio for iPhone's Triptych Layout coincides with the release of iOS 7 given that Apple's new mobile operating system emphasizes layers (depth). Clio for iPhone also supports iOS 6.
"We wanted to give lawyers both flexibility and fast access to their data," CEO Jack Newton told us. "The Clio iOS App achieves this by marrying all the features lawyers need to manage their practice from anywhere with an innovative design. Whether it's updating tasks during a commute, tracking time during a client lunch, pulling up documents on the fly, etc., no other mobile legal practice management app enables lawyers to access features so quickly."
Other Notable Features

Clio for iPhone's Matter Timeline gives you a complete history of any matter. You can see, access, and edit recent events, as well as see notes and other details. Quick Actions enable you to add notes or time entries to any matter. These immediately show up in the Matter Timeline.
Regarding to time entries, there's a built-in timer as noted above. Once started, the timer remains visible on every screen in a blue bar. On the Time Entry screen, you can see time entries organized by day. A summary of billed time also exists, enabling you to review all of your billed time and revenue for a matter or time period.
Other features include iPhone integration (e.g., tap email addresses to compose a message, tap telephone numbers to place calls, etc.), the ability to require a personal identification number to open the app for added security, full access to all DOC, PDF, and other documents stored in Clio, and automatic bidirectional syncing with your Clio account (if you're offline, syncing will occur when you're back online).
What Else Should You Know?

Clio for iPhone is free, available on the App Store. It requires a Clio account. Pricing for Clio starts at $49 per month per lawyer, and $25 per month per support staff. Learn more about Clio for iPhone.
How to Receive TL NewsWire
So many products, so little time. In each issue of TL NewsWire, you'll learn about five new products for the legal profession. Pressed for time? The newsletter's innovative articles enable lawyers and law office administrators to quickly understand the function of a product, and zero in on its most important features. The TL NewsWire newsletter is free so don't miss the next issue. Please subscribe now.