Today's issue of TL NewsWire covers an iPad note-taking app that takes security seriously (see article below), an iPhone app for creating lists (including checklists), a service for paperless deposition exhibits, and client relationship management software. Don't miss the next issue.
THE LEGAL IPAD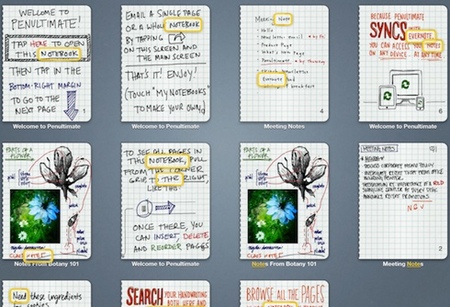 Most people stop taking notes in their last class in college — well, at least fast and furious notes. By contrast, many lawyers take notes in this manner for their entire career. While the legal pad and other paper note-taking "systems" are not yet in the hearse en route to their grave plots between the addressograph and typewriter, an increasing number of lawyers take notes on their iPads. As the apps improve, more lawyers ditch their pens for styluses.
Penultimate 4.1 … in One Sentence

Launched last month, Penultimate 4.1 is an iPad note-taking app.
The Killer Feature

All smart lawyers protect their computers, including their iPads, with a login. But a single login is insufficient to protect sensitive information — like your notes for example. Realizing this security need, Evernote added an optional passcode lock feature to the new version of Penultimate.
In addition to securing your notes, this feature enables you to create multiple accounts. Thus, you could share an iPad with someone or more likely create an account for each client or at least one for work and one for personal use.
Other Notable Features

Penultimate is part of the Evernote empire. The app is free but unlocking all of its functionality requires an Evernote Premium account, which costs $45 per year. For example, only those with Evernote Premium accounts can use the new passcode feature.
Also, Penultimate includes three paper styles. If you have an Evernote Premium account, you can use all seven collections. Otherwise, each collection ranges in price from 99 cents to $2.99 via an in-app purchase.
Most notably, an Evernote Premium account enables you to sync your notes so that you can access and search them in Evernote, which is available on every platform (unlike Penultimate). Yes, you read that right — Evernote can make your handwritten notes searchable.
What Else Should You Know?

Penultimate's core note-taking features don't require an Evernote Premium account. These include multiple pen tips and colors from which you can choose, notebooks into which you can place notes for organization, and the ability to email or export notes in PDF format. Learn more about Penultimate 4.1.
How to Receive TL NewsWire
So many products, so little time. In each issue of TL NewsWire, you'll learn about five new products for the legal profession. Pressed for time? The newsletter's innovative articles enable lawyers and law office administrators to quickly understand the function of a product, and zero in on its most important features. The TL NewsWire newsletter is free so don't miss the next issue. Please subscribe now.