Today's issue of TL NewsWire covers an iPad handwriting app (see article below), a project management system, predictive coding software, and an iPhone calendar app that integrates with Internet services. Don't miss the next issue.
WRITE IN PLACE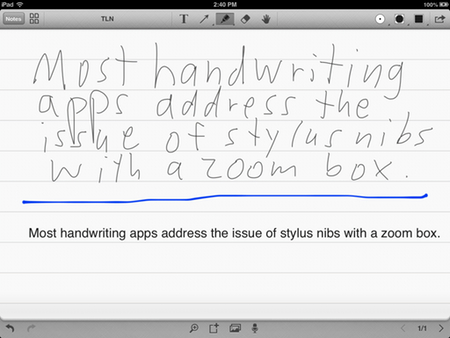 Handwriting on the iPad or iPad mini presents a challenge. Not only is your forefinger (not to mention your pinky) much larger than the tip of a pen, but so are styluses because of the nature of capacitive touchscreens. A stylus with a tip (nib) the size of a pen wouldn't work. Styluses have improved (narrowed) over the past few years, but app developers still need to meet them halfway.
Remarks … in One Sentence

Launched last month, Readdle's Remarks 1.5.1 is an iPad app for handwritten notes.
The Killer Feature

Most handwriting apps address the issue of stylus nibs with a zoom box. Basically, you write in large letters in a box at the bottom of your virtual paper. The app converts your writing into much smaller text on the virtual paper above. While zoom boxes work, they're less than ideal because of the disconnect (physical keyboards work in a disconnected manner, but they don't try to mimic paper).
Remarks offers a zoom box for those who like the precision this method offers. However, it also enables you to simply zoom in and out on your virtual paper so that you can write directly where your text appears. To prevent your text from looking like you wrote it with a magic marker, Remarks offers pen tip settings, including a very fine tip that effectively shrinks the size of your stylus' nib. When you write without the zoom box, Remarks ignores unintended touches by your palm if it's resting on the lower portion of the screen.
Other Notable Features

In addition to the pen tip setting, Remarks also provides an eraser, unlimited undo/redo, a selection of shapes you can insert, and settings for different color inks and the opacity of what you write (e.g., you can create a faint watermark). You can also add typed notes to your document and record audio. Both handwritten and typed notes can appear on the same page.
Depending on how many notes (documents) you create, Remarks offers two methods of organization. You can name a note and leave it in the home screen if you need to access it frequently, or you can place notes into notebooks, which also have names and appear in the home screen. Each note can contain an unlimited number of pages. You can move notes from one notebook to another or back to the home screen.
In addition to starting with a blank page, you can import PDF documents and use Remarks' tools to annotate them. Remarks offers underlining and strikethrough as well as all the tools discussed above. You can highlight by choosing a highlighter from the pen tips in your preferred color. You can add comments by inserting a box and then typing notes in the box.
What Else Should You Know?

Remarks stores your notes in PDF format. Thus, you can send a note to any other iPad app that supports PDF. You can sync your notes via iTunes, Dropbox, Google Drive, and SkyDrive, email notes from the app, and print notes to any AirPrint-enabled printer. Remarks costs $4.99. Learn more about Remarks 1.5.1.
How to Receive TL NewsWire
So many products, so little time. In each issue of TL NewsWire, you'll learn about five new products for the legal profession. Pressed for time? The newsletter's innovative articles enable lawyers and law office administrators to quickly understand the function of a product, and zero in on its most important features. The TL NewsWire newsletter is free so don't miss the next issue. Please subscribe now.