Today's issue of TL NewsWire covers an iPhone app that automatically records your billable time (see article below), a task management system with time-based interdependent ticklers, an iPad app for managing and presenting deposition exhibits, and a service that enables you to make court appearances remotely in your boxer shorts. Don't miss the next issue.
NOW THERE'S AN APP FOR AUTOMATIC IPHONE TIME CAPTURE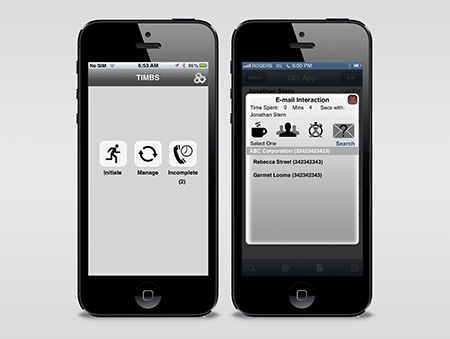 Here's a shocking statistic. Approximately half of billable time on mobile devices consists of 30 seconds or less. Think about the last client email message you read or phone call you made on your smartphone. Many messages and calls take just a few seconds and are not billed. Half a minute here, half a minute there. Before you know it, these brief spurts of work can add up to lots of billable hours not captured and revenue lost. It's hard enough to record time in six-minute increments let alone 30 second interactions on smartphones. Enter automatic time capture.
TIMBS for iPhone … in One Sentence
Launched last week, TIMBS for iPhone automatically captures the time you spend on client-related email and telephone calls with one touch.
The Killer Feature

TIMBS consists of three components — TIMBS for iPhone, TIMBS Cloud, and TIMBS System. The iPhone app records your billable time automatically, after which it goes to your account on a secure server managed by TIMBS (no one from the company can view your encrypted time entries). From the TIMBS cloud, the data goes to the TIMBS System (an appliance or virtual machine that TIMBS provides at no charge) and aggregates the billable time. TIMBS System communicates with all major billing systems so that it can post your time entries.
TIMBS for iPhone automates time capture by prompting you to accept the recorded time after reading and sending an email message, and after a telephone call. Via the app and TIMBS Server, you can associate contacts with client/matter numbers for faster entry. You can also designate contacts such as your spouse and kids as "personal" so that the app will not prompt you for billing any communications with them.
The app can also learn. For example, it can automatically enter time for the second, third, fourth, etc. message in an ongoing email thread without any further clicks since it already knows the client/matter number.
Other Notable Features

You can also enter docket entries in the app regardless of your location, eliminating the need to use other tools since you always have your iPhone with you. For example, you can enter travel time, time spent at court and in meetings, and time spent working on a document in your office.
To make the billing process easier and bills easier for clients to understand, TIMBS Server can aggregate the many automated small time entries into standard six-minute-increment time entries, the difference being that you can demonstrate to your clients that these time entries were automatically captured in realtime and not guesstimated if asked about them. A full docket report is also available to show your clients each interaction that made up the posted docket entry. In short, you can always prove your time.
"After years of development working with top iOS development talent, we have launched a game-changing cloud-connected app for mobile time capture on iPhone that enables a law firm to capture hundreds of thousands of dollars of lost revenue effortlessly and securely," TIMBS CEO and Founder Michael Bluestein told us. "Thanks to our years of experience with our similar BlackBerry app, we know that on average TIMBS captures an additional 60 hours per year per timekeeper," he added.
What Else Should You Know?

TIMBS for iPhone is free as is TIMBS Server. Instead, you pay a subscription fee. You can try it for free for two months. The company plans to launch TIMBS for iPad and TIMBS for Android apps soon. Learn more about TIMBS for iPhone.
How to Receive TL NewsWire
So many products, so little time. In each issue of TL NewsWire, you'll learn about five new products for the legal profession. Pressed for time? The newsletter's innovative articles enable lawyers and law office administrators to quickly understand the function of a product, and zero in on its most important features. The TL NewsWire newsletter is free so don't miss the next issue. Please subscribe now.