Today's issue of TL NewsWire covers a cloud time-tracking application for lawyers (see article below), an add-on for Microsoft Office 2010 and 2013, an automation app for iPad and iPhone, and an email marketing and newsletter service. Don't miss the next issue.
BILL YOUR TIME IN REALTIME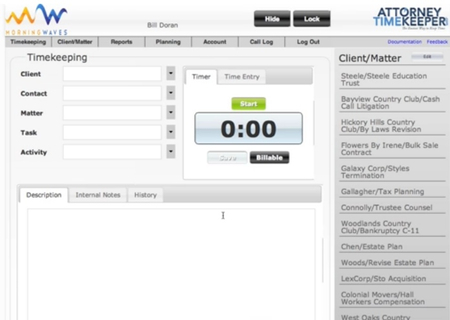 Notwithstanding all of the management consultants trying to kill it, the billable hour has proven durable. Therefore, instead of trying to replace it, law firms may find themselves better served by mastering it. Some claim the secret lies in contemporaneous time capture. But jotting down notes on paper is prone to error not to mention unbecoming of a modern lawyer.
Attorney Timekeeper … in One Sentence

Launched last month, Attorney Timekeeper is a cloud time-tracking application for lawyers.
The Killer Feature

Attorney Timekeeper lists your most recent matters on the right side of the screen (you can edit this list and add new matters). To the left is a timer and below is a text box into which you enter a description of your work. This text box has two other tabs — one for for internal notes, and one that lists a history of all your time entries.
You keep Attorney Timekeeper open all day so that you can contemporaneously capture your time. It works in mobile web browsers so instead of using your desktop web browser, you can use an iPad or smartphone. You can export time entries in CSV format for importing into your accounting or billing software for creating invoices.
Attorney Timekeeper is designed to minimize clicks (or taps). For example, if you're drafting an agreement for the Smith matter and you receive a telephone call about the Jones matter, one click will stop the timer on the former and start it on the latter. After the telephone call, you click on the Smith matter and resume work on the agreement. Attorney Timekeeper automatically enters the last description for the Jones matter, which you can change if necessary. Instead of switching from matter to matter, you can stop the current timer when you need to take a break, write an internal note, etc.
Other Notable Features

With Attorney Timekeeper, you can automatically import time spent on mobile telephone calls from your AT&T, T-Mobile, or Verizon account. You then decide if each call is billable or not. The company is working on support for other carriers.
Attorney Timekeeper enables you to customize each matter. For example, some clients may require UTBMS task and activity codes on their bills while others may not. Other settings include the time increment, whether the timer should start when you click on a matter or require a second click on the "Start" button, whether to enter time manually instead of using the timer, etc.
The application offers a number of reports, including Billing Effectiveness Percentage, which is total billed hours divided by total hours worked. You can give everyone access to this report to create a friendly competition. There's also an Annual Planner so that lawyers with an annual billable hours quota can track their progress.
What Else Should You Know?

The "Hide" and "Unhide" buttons enable you to quickly hide and restore your screen for privacy. If you leave your office, you can lock your screen, which requires your password to make visible again. Pricing ranges from $34.45 to $49.95 per month per timekeeper depending on the number of timekeepers. Annual plans also exist at a lower monthly cost. Learn more about Attorney Timekeeper.
How to Receive TL NewsWire
So many products, so little time. In each issue of TL NewsWire, you'll learn about five new products for the legal profession. Pressed for time? The newsletter's innovative articles enable lawyers and law office administrators to quickly understand the function of a product, and zero in on its most important features. The TL NewsWire newsletter is free so don't miss the next issue. Please subscribe now.