Today's issue of TL NewsWire covers an iPad and Mac app for both freeform and structured notes (see article below), a purse that keeps your smartphone charged, an iPad app for reviewing and annotating video depositions, and strategic planning software. Don't miss the next issue.
TAKE NOTE OF EVERYTHING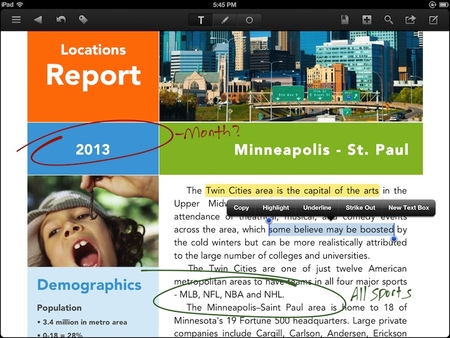 Gertrude Stein may have been right about roses, but her famous quote doesn't apply to notes according to at least one app developer. This company feels that "notes" encompass both freeform information as well as more specialized or structured information such as annotations, outlines, tasks, etc. Regardless of whether you agree that the latter qualify as "notes," it makes sense to keep all of this data at your fingertips in one searchable app that syncs across your devices.
NoteSuite 2.0 … in One Sentence

Launched last week, Theory's NoteSuite 2.0 (previously known as Projectbook) is an iPad and Mac app for taking, organizing, and searching different types of "notes."
The Killer Feature

NoteSuite enables you to import documents and photos in popular formats such as Pages, PDF, and Word. Once imported, you can annotate a document — add comments, highlight and strikethrough text, add bookmarks, draw, use arrows and other symbols, and more. NoteSuite converts Pages and Word documents into PDF format for annotations.
Other Notable Features

In addition to importing documents from local media, you can also import them from Dropbox, Google Drive, and Box. Because NoteSuite uses standard document formats instead of its own proprietary database, you can likewise export your data as needed. The company claims that this gives NoteSuite a significant edge over competitors such as Evernote.
Regarding freeform notes, NoteSuite supports both handwritten and typed notes on the same page. You can record audio as you take notes, and later select a portion of your notes to hear the accompanying audio clip.
As intimated above, NoteSuite supports capturing information in special formats. For example, you'll find a To-Do Manager with features such as alerts, due dates, recurring tasks, parent-children hierarchies for multistep tasks, task delegation, and optional calendar integration. If you assign deadlines to your tasks, the Today and This Week views enable you to focus on your most urgent tasks. Alternatively, you can apply tags and then view all tasks with a given tag (e.g., client/matter). To-Do Manager complies with "Getting Things Done" if you use that methodology.
Thanks to a special feature, NoteSuite facilitates electronic signatures. The signatories sign their name in a large box after which NoteSuite shrinks their signatures to fit in the allotted space in the document. Other features include full-text searching, web clippings, and the ability to work offline.
What Else Should You Know?

Currently, NoteSuite syncs via iCloud only. The company plans to support other sync services in the future. It's also working on an iPhone app. The iPad app costs $4.99; the Mac app costs $9.99 (the company periodically offers limited-time discounts). NoteSuite is free for those who previously purchased Projectbook. Learn more about NoteSuite 2.0.
How to Receive TL NewsWire
So many products, so little time. In each issue of TL NewsWire, you'll learn about five new products for the legal profession. Pressed for time? The newsletter's innovative articles enable lawyers and law office administrators to quickly understand the function of a product, and zero in on its most important features. The TL NewsWire newsletter is free so don't miss the next issue. Please subscribe now.