Today's issue of TL NewsWire covers a Bluetooth ballpoint pen that transmits your notes to your iPad or iPhone (see article below), a doorbell that connects to your smartphone, an online word processor with realtime collaboration, and a portable flatbed scanner. Don't miss the next issue.
A PEN MIGHTIER THAN A STYLUS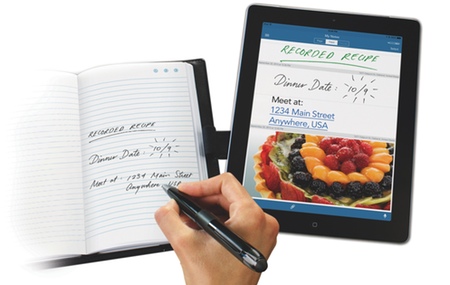 Lawyers find themselves in a bit of a quandary nowadays when taking notes. Because of their raised lids and the sound of their keyboards, laptops may distract the person you're interviewing. An iPad paired with a stylus and an app that can record and sync audio seems ideal except that using a stylus slows you down. You may find it hard to keep up. This leaves pen and paper, which is fast but cannot record and sync the recorded audio to your notes. Lawyers need a mashup of all three note-taking methods.
Livescribe 3 Smartpen … in One Sentence

Launched two weeks ago, Livescribe 3 Smartpen is a Bluetooth ballpoint pen that transmits your notes and synced audio to your iPad or iPhone.
The Killer Feature

Livescribe 3 Smartpen requires Livescribe Dot Paper, which you can purchase from the company in various sizes and formats or print from your computer. You'll also need the free companion Livescribe+ app, which requires iOS 7 and works with an iPad 3 or later, original iPad mini or later, and iPhone 4s or later.
The app features handwriting recognition software that converts your handwritten notes into searchable and editable text. This not only obviates having to transcribe your notes, but also enables you to convert notes into appointments, contacts, tasks, and more thanks to the app's integration with Calendar, Contacts, Reminders, Evernote, and other apps. You can also tap a phone number to dial it when viewing notes on your iPhone.
Other Notable Features

Livescribe 3 Smartpen lasts for 14 hours when fully charged (you charge it using the bundled USB cable). In a clever twist, the pen's cover features a nib, enabling you to use it directly on your iPad or iPhone as a stylus.
The Livescribe+ app enables you to add photos and type text onto the notes you take with the Livescribe 3 Smartpen. Notes exist in PDF format, enabling you to send them to anyone, and work on them in any application that supports the PDF format.
In addition to the default Page view, you'll find two other views in the Livescribe+ app. The "Feed" button intelligently segments a page of notes. For example, the app recognizes headings for section segmenting as well as pauses in your note-taking for chronological segmenting. You can export a segment as its own note. The "Pencast" button plays back your note-taking while playing the synced audio. A scrubber enables you to play a specific portion.
What Else Should You Know?

You can choose from two packages. For $149.95, you get one ink cartridge and a 50 sheet starter notebook with the Livescribe 3 Smartpen. For $199.95, you get two ink cartridges, a leather Livescribe portfolio, a 100 sheet pad that fits in the portfolio, and a one-year Evernote Premium subscription that would normally cost $45. Learn more about Livescribe 3 Smartpen.
How to Receive TL NewsWire
So many products, so little time. In each issue of TL NewsWire, you'll learn about five new products for the legal profession. Pressed for time? The newsletter's innovative articles enable lawyers and law office administrators to quickly understand the function of a product, and zero in on its most important features. The TL NewsWire newsletter is free so don't miss the next issue. Please subscribe now.