Today's TL NewsWire Hot Product is cloud-based real estate closing software with built-in title searches and integrations with real estate financial platforms (see article below). In addition, you'll find links to many previous TL NewsWire Hot Products, including cloud-based timeline creation and case document storage software designed for the legal profession. Don't miss the next issue of TL NewsWire.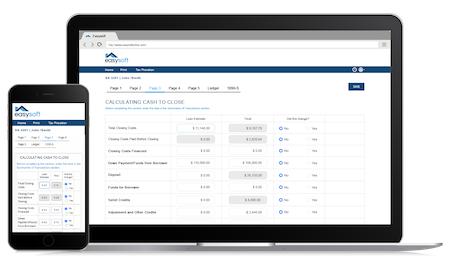 For a while, it seemed like the cloud would bypass real estate closing software. Then last year one of the leading companies shipped a cloud version that we covered in TL NewsWire. Fast forward to the present and it remains the only cloud-based real estate closing software — with a bunch of new features added since our initial reporting.
Easysoft Online in One Sentence
Easysoft Online is cloud-based software for Closing Disclosure (CD) and HUD real estate transactions, including a new user experience, templates, and third-party integrations.
The Killer Feature
Easysoft Online works in desktop and mobile web browsers. The company adds new features every week, which you can read about from within the application. You can also submit feedback and feature requests, chat with technical support, and search the knowledge base.
Regulations have made the closing workflow notoriously dense with a lot information crammed into relatively few pages. Easysoft Online mirrors these same pages for familiarity but recently implemented an accordion-style interface so that you can open only relevant parts of a page at any given time (e.g., Origination Charges, Total Loan Costs, Prepaids, Initial Escrow, etc.).
"I've used the program already on one closing and it's working great," says Felix J Mendigutia, founding partner of Law Office of Felix J. Mendigutia. "I like the fact that I can access it from home. I worked on a closing that required me to redo the documents late at night since the lender was in California. They were working late and I was able to redo the docs without having to go to the office."
Other Notable Features
Among the major new features, you can now conduct title searches from within Easysoft Online. Other recent additions include automatic calculation of taxes and government fees for all 50 states, more options for calculating tax proration, support for Balloon Payments and Range of Payments for projected payments, and a bidirectional address book so that you can add new contacts from a deal document. Easysoft Online has also improved its Ledger by enabling you to combine or split checks.
Easysoft desktop users who migrate to Easysoft Online can now import their templates as well as all their data and prior deals. You can also create new templates in Easysoft Online, which saves time if you often deal with the same buyers, lenders, etc.
Cloud-based software has an advantage when it comes to integrations, and Easysoft Online is adding them at a fast clip. It launched last year with an InfoTrack integration for 1099-S filings. More recently, it added an integration with RynohLive for managing escrow transactions and fraud protection, Fidelity National Financial for title services, and Dropbox for securely saving and sharing the final closing documents in Word or PDF format. CosmoLex and QuickBooks users can import financial data from Easysoft Online for trust accounting.
What Else Should You Know?
Easysoft Online costs $69 per user per month. "For over 30 years, Easysoft has been a leading legal software provider trusted by real estate closing professionals nationwide, says Managing Director Jeanette Knight. "Easysoft Online eliminates the need to manually calculate complex calculations by automating the calculations for you. Using Easysoft Online make you more efficient so you can make more money from your work." Explore Easysoft Online and bookmark the website.
About TL NewsWire

So many products, so little time. Each week, TL NewsWire reports on the hottest new products for lawyers and law office administrators. The innovative structure of TL NewsWire articles enable you to quickly understand each product's value proposition, and then zero in on its killer feature and other notable attributes. In each issue, you can easily revisit our back catalog of articles and the most recent TL NewsWire Top 25 Products Awards. Subscribe to TL NewsWire.