Today's issue of TL NewsWire covers software for managing deal closings, including creating signature packets, tracking who has and hasn't signed, and generating PDF closing binders (see article below). In addition, you'll find links to the previous 11 TL NewsWire features, including our coverage of cloud real estate closing document automation software for CD and HUD transactions that handles all calculations and tax filings, document comparison software that adds legal-specific functionality to Microsoft Word's Track Changes and which integrates with popular document management systems, and much more. Don't miss the next issue.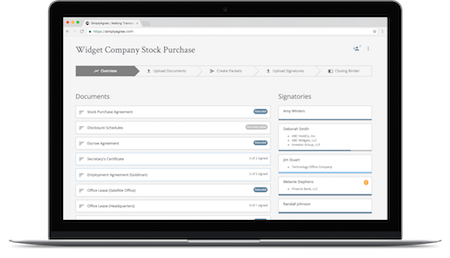 Transactional practice is mostly logical. You argue and obsess over phrases and other details to arrive at a compromise that satisfies all parties and minimizes future litigation. But when it's time to close, lawyers often fall prey to mind reading. "Why haven't they signed? Did they get the signature pages? Should I call them?" It's time to rethink closings.
SimplyAgree … in One Sentence

SimplyAgree is cloud-based transactional management software for streamlining and tracking deal closings, and automating the creation of closing binders.
The Killer Feature

SimplyAgree's co-founders, CEO Will Norton and COO Sam Beutler, spent several years practicing corporate law. They noticed that closings had not changed much since the advent of email 20 years ago. As a result, creating signature packets remains a time-consuming, manual process. Moreover, they found online signature tools inadequate for complex transactions with multiple signature pages and signatories.
"While other electronic signature tools have been focused on general business use cases, few have considered the unique challenges faced by transactional attorneys," says Norton. "That's where SimplyAgree comes in." "Transactional attorneys have proven processes to close complex deals," adds Beutler. "Our goal is not to reinvent the wheel, but to give these processes more horsepower."
SimplyAgree automates the creation and distribution of signature packets. You securely upload the documents associated with the deal to SimplyAgree and enter the name for each signatory. SimplyAgree then identifies where each person needs to sign and creates signature packets comprised of the signature pages for each signatory. You can include duplicates if one or more counterparties requires multiple original signature pages rather than a single copy.
Print signature packets for an in-person signing or email them in PDF format to each respective signatory. SimplyAgree integrates with DocuSign if you want to offer electronic signing and other timesavers such automatically filling the signatory's name and other stored data.
Other Notable Features

SimplyAgree's dashboard lists all active deals. Within each deal, you can track who has and hasn't signed, and store copies of completed signature pages. You can even reject invalid signatures and record why in case you need to show an audit trail someday. SimplyAgree holds all executed signature pages in escrow so that you can continue to negotiate terms.
When deals close, clients often demand closing binders but don't want to pay for them. SimplyAgree automates this thankless task. Upload the final version of your deal documents and connect them to the executed signature pages, arrange the documents in the order you want them to appear, and enter metadata such as party names and the closing date for the cover page. The software then merges all the documents into a single PDF file with bookmarks, corresponding slip pages, and a hyperlinked index.
You can customize the design of these closing binders with your firm's logo and colors. Creating different versions of a closing binder or updating a closing binder with new documents takes seconds rather than hours. In fact, you can use SimplyAgree solely for creating closing binders if you don't want to use its project management features.
What Else Should You Know?

"SimplyAgree is an excellent tool that expedites the closing and post-closing process, saving valuable attorney time and thus saving our clients money," says Aaron Moody, an associate lawyer at Eversheds Sutherland in Atlanta. Learn more about SimplyAgree.
How to Receive TL NewsWire
So many products, so little time. In each issue of TL NewsWire, you'll learn about five new products for the legal profession. Pressed for time? The newsletter's innovative articles enable lawyers and law office administrators to quickly understand the function of a product, and zero in on its most important features. The TL NewsWire newsletter is free so don't miss the next issue.