Today's issue of TL NewsWire covers an Outlook add-in with tools for preventing email mishaps and managing email messages involving many parties (see article below). In addition, you'll find links to the previous 11 TL NewsWire features, including our coverage of a research service for medical malpractice lawyers, a service with model forms and practice guides for transactional lawyers, software for automating the creation of a table of exhibits in Word documents, contract analysis software, and much more. Don't miss the next issue.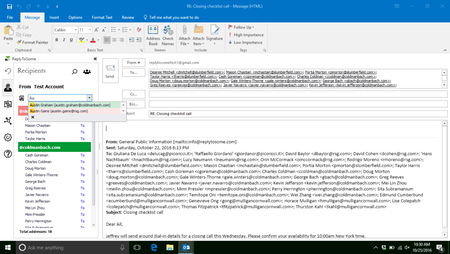 Email mistakes occur all the time for various reasons. Regardless of whether the cause is sleep deprivation, multitasking, or a mischievous autocomplete, an email message sent to an unintended recipient can wreak havoc on business and relationships. Just as importantly, omissions cause problems and occur all too easily on deals involving many people. Preventing such problems seems tailor-made for software.
ReplyToSome … in One Sentence

Launched this week, Winnieware's ReplyToSome 2.0 is an Outlook add-in that prevents mishaps, simplifies distribution list creation, and provides insights into your email.
The Killer Feature

The ReplyToSome interface appears on the left side of Outlook. You can toggle it on or off. When viewing an email message, ReplyToSome lists all the recipients in individual rows, grouping them by whether they're an Insider such as a colleague or an Outsider such as opposing counsel or an unknown person. Insiders are shaded in green and Outsiders in red. ReplyToSome further groups recipients by organization, and lists whether each person is a TO or CC.
This interface includes a set of tools designed to prevent addressing mistakes when you create or reply to a new email message. For example, when you receive an email message involving multiple parties, you can select specific addresses or organizations from the message for your reply. This eliminates the risky and tedious process of using Reply-All and then removing email addresses. You can also use ReplyToSome to create or edit distribution lists without having to leave the email message you're reading. You can add these lists to a new message or reply using a drag and drop action.
"Lawyers spend about 30% of their day dealing with email, often circulating confidential information among multiple parties in a fast-moving environment," Winnieware's UX Design Director Dora Fang tolds us. "Outlook does not adequately serve lawyers' needs. ReplyToSome helps lawyers safely and efficiently send and receive email."
Other Notable Features

When you receive a message, a badge at the top of ReplyToSome tells you whether the parties in the message completely or partially match a distribution list you previously saved. Clicking the badge highlights the addresses that overlap. You can also identify people added to or removed from a given list.
Along the same lines, ReplyToSome offers a Blackline feature, enabling you to compare the recipients of two email messages to identify those who received both messages versus those who received only one. You can also compare an email message to a distribution list.
ReplyToSome's SendCheck technology provides several safeguards to catch common email sending mistakes. For example, SendCheck warns you if you're a BCC and reply to a message, and when it thinks you forgot an attachment.
Most importantly, SendCheck prevents you from emailing the wrong person. Given the demo Winnieware's CEO Peter Norman gave me when he visited our office, ReplyToSome goes beyond competing add-ins that warn you about using Reply-All. Instead, when you reply to a message, ReplyToSome shows you a dialog box listing all Outsiders. You decide whom to include and exclude. Only after confirming everyone you really want to email can you send the message.
What Else Should You Know?

ReplyToSome can transform Outlook into a vehicle for sending your email newsletters and client memos thanks to its ability to send the same email message separately to each person in a distribution list. Sending individual email messages results in better deliverability than bulk sending using BCC. Learn more about ReplyToSome.
How to Receive TL NewsWire
So many products, so little time. In each issue of TL NewsWire, you'll learn about five new products for the legal profession. Pressed for time? The newsletter's innovative articles enable lawyers and law office administrators to quickly understand the function of a product, and zero in on its most important features. The TL NewsWire newsletter is free so don't miss the next issue. Please subscribe now.