Today's issue of TL NewsWire covers a practice management app for litigators that organizes the facts, issues, and court deadlines of your cases (see article below), a document assembly add-in for Microsoft Word that can use Excel files and databases as data sources, a practice management app with client intake forms that you can host on your website, and a new keyboard case for the 9.7-inch iPad Pro. Don't miss the next issue.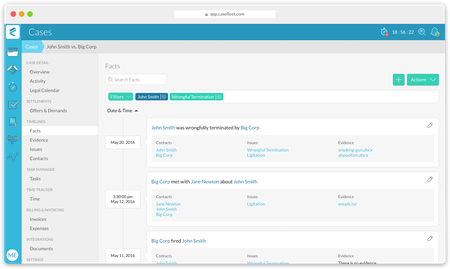 Traditional practice management apps tend to focus on managing your law firm, an important task for sure. But they lack tools for managing litigation matters. Meanwhile, litigation apps tend to focus on just one aspect of litigation such as ediscovery or depositions. As a result, a void in the market exists.
CaseFleet … in One Sentence

Launched earlier this year, CaseFleet is a litigation practice management and case analysis app.
The Killer Feature

At its essence, litigation involves three components — research, analysis, and synthesis. CaseFleet's Timeline tackles all three, enabling you develop an understanding of the facts and issues in each of your cases. Think of it as a mashup of CaseMap and TimeMap that runs in your web browser.
You build each Timeline by entering facts and evidence along with the date and time. You can assign one or more Issues to each fact. You can also enter Contacts and connect them to facts. These connections enable you to generate reports using the Filter — a search tool in which you can list all the facts within a date range that pertain to one or more Issues and Contacts. You can export the entire Timeline or a filtered portion in Word or PDF format.
Links to source documents such as deposition exhibits and transcripts keep these materials a click away. Linking documents works by dragging and dropping a file from your desktop onto a fact. CaseFleet's proprietary technology eliminates duplicates and maintains the link to each original even if you change its filename. CaseFleet integrates with Dropbox and Box for file storage.
Other Notable Features

Unlike the team calendars in traditional practice management apps, the Legal Calendar in CaseFleet focuses exclusively on court and other litigation deadlines. You can use colors to denote different types of events (e.g., red for motions, blue for depositions). The Legal Calendar supports full-day events, offers a List View, and contains a Filter for viewing specific types of events. You can sync the Legal Calendar to Google Calendar and Outlook.
In addition to managing your litigation matters, CaseFleet also helps you secure them in the first place. The Leads Pipeline enables you to track prospective clients, remember to follow up with them, and identify your best sources of new business. When prospects hire your firm, you can convert them to cases.
"Our goal as a company is making litigators more successful and simplifying the work they do," CaseFleet CEO Jeff Kerr told me. "We help litigators master the past (the facts and evidence) through Timelines and see the future (deadlines & key dates) with our Legal Calendar. No other software does this much for practicing litigators. Moreover, we provide practice management functionality as part of the same package."
What Else Should You Know?

Other features of CaseFleet include time tracking with a start/stop timer, expense tracking, billing, and trust accounting. CaseFleet starts at $29 per user per month ($24 with an annual contract). Learn more about CaseFleet.
How to Receive TL NewsWire
So many products, so little time. In each issue of TL NewsWire, you'll learn about five new products for the legal profession. Pressed for time? The newsletter's innovative articles enable lawyers and law office administrators to quickly understand the function of a product, and zero in on its most important features. The TL NewsWire newsletter is free so don't miss the next issue. Please subscribe now.