Today's issue of TL NewsWire covers new cloud practice management software five years in the making (see article below), a Windows utility for managing multiple monitors, an online directory that connects you to prospective clients, and a Chrome plug-in that prevents you from using weak phrases in your email messages. Don't miss the next issue.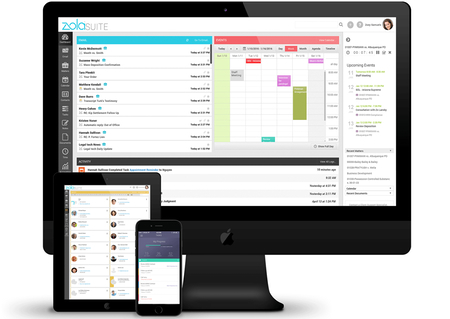 The expectations for practice management software keep rising. You want a polished user experience and design, the same functionality on your smartphone as on your desktop, workflow automation, email and document integration, financial management, and no data silos or duplicate data entry. Whew — that's quite a demanding list.
Zola Suite … in One Sentence

Launched recently, Zola Media's Zola Suite is cloud practice management software that includes document management, general ledger and trust accounting, and much more.
The Killer Feature

As I started my sixth page of notes during my online demo of Zola Suite, I asked Zola Media's Founder and Architect Fred Cohen how many years it had taken to build the software. "Five," he replied.
Cohen and his team seem to have left no feature unexplored, including parity between the desktop web app and the iPhone and Android apps. This means you can access the data you need on the fly in the mobile app as well as create new records. Additionally, the mobile app takes advantage of your smartphone — it contains a business card and document scanner with built-in OCR for adding contacts and searchable PDF documents to Zola Suite.
Zola Suite features many user experience touches such as the use of color — matters are purple, contacts are yellow, etc. The top right of every table has a real time search filter and a + button for adding a new record.
"As a former practicing attorney, tech geek and design nerd, I was frustrated by the limitations of the available practice management solutions," Cohen told me. "Together with my amazing team, we are doing things with Zola Suite that we believe will fundamentally change the way lawyers use practice management software. Our matter-based approach and dedicated iOS and Android apps that take advantage of smartphone hardware are creating quite a buzz and I am humbled by the response."
Other Notable Features

Zola Suite integrates with most IMAP and Microsoft Exchange email services, including Gmail and Office 365. Composing a new email message from within a matter automatically starts a timer. Contacts in Zola Suite auto-populate when addressing the message. These messages reside in Zola Suite but also behave normally in Gmail, Outlook, and on your smartphone. Similarly, you can file incoming messages in Zola Suite, and convert them into tasks.
Speaking of task management, you can "mind dump" as Cohen puts it to quickly enter tasks. These get assigned to you initially but you can later assign them to others, add a due date, and receive a notification when they're completed or overdue. Tasks contain a time entry tool and the ability to generate Task Templates facilitating multistep, recurring workflows such as client intake.
Cohen describes Zola Suite's Notes as "robust enough to replace OneNote." Similarly, Zola Suite can replace QuickBooks thanks to double entry general ledger accounting, check printing, trust accounting, and LawPay integration for credit card processing. The document management system offers nested folders with drag and drop, global search, retention of all document versions, and unlimited storage.
Other features include telephone call tracking, time entry, a calendar with support for email invitations, user permissions, and UTBMS codes.
What Else Should You Know?

When billed annually, Zola Suite costs $68 per attorney per month and $34 per support staff per month. A special plan for solos costs $49 per month. An optional branded client portal enables your clients to securely access their documents and pay invoices. Learn more about Zola Suite.
How to Receive TL NewsWire
So many products, so little time. In each issue of TL NewsWire, you'll learn about five new products for the legal profession. Pressed for time? The newsletter's innovative articles enable lawyers and law office administrators to quickly understand the function of a product, and zero in on its most important features. The TL NewsWire newsletter is free so don't miss the next issue. Please subscribe now.