Today's issue of TL NewsWire covers a cloud software platform that automates entity formation and compliance tasks, and enables you to offer these services under your own brand (see article below). In addition, you'll find links to the previous 11 TL NewsWire features, including our coverage of do-it-yourself ediscovery collection software at a price point far below the industry average, cloud practice management software for law firms that crave the billing and automation features of legacy software, and much more. Don't miss the next issue.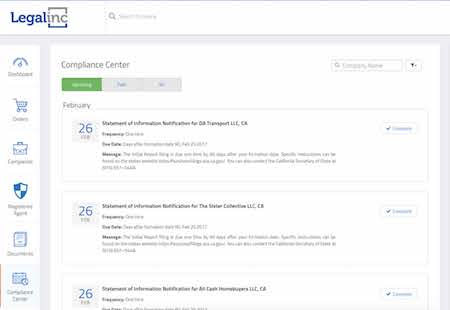 Entity formation and ongoing management can seem like Dante's Inferno with each secretary of state a figurative Circle of Hell thanks to archaic websites, inconsistent compliance notifications, and manual, paper-based processes. How about some modernization and uniformity?
Legalinc … in One Sentence

Launched recently, Legalinc automates tasks related to business formation, entity management, and registered agent services, and enables you to offer these services under your own brand.
The Killer Feature

You can use Legalinc's services directly from its website. Alternatively, you can incorporate LINC, a private-label (white-label) version of Legalinc, into your own website. LINC is free, including complete integration assistance.
With LINC powering your website, you can offer do-it-yourself business formation services. Prospects can choose from several packages. For example, you could charge extra for registered agent services, an online entity management dashboard, etc. Also, these new businesses may need additional legal services that your firm can provide — trademark filings, lease negotiations, private placements, etc.
"Legalinc is an incredible partner for us, says Kevin Vela, co-founder of Vela Wood P.C. in Texas. "We leverage their LINC technology platform to better and more efficiently service our clients. I can't imagine using anyone else for state filing matters."
Other Notable Features

Legalinc CEO and Founder Erik Treutlein describes Legalinc as a "practice automation software company." "By leveraging the power of software to navigate thorny requirements across all U.S. jurisdictions, Legalinc outshines the clunky, antiquated processes offered today," says Treutlein. "We are committed to automating mission-critical legal services through secure, scalable software."
When forming a new entity, Legalinc displays all state fees, including options for expedited processing. Legalinc can create C and S corporations, LLCs, nonprofits, DBAs, and more in all 50 states. Legalinc can serve as the entity's registered agent.
Legalinc's Compliance Calendar lists deadlines for the entities you manage, enabling you to identify and address compliance challenges. Legalinc can send you and your clients email alerts (on your behalf) for upcoming filing deadlines, status changes, and so forth. If you need a document such as Good Standing that's not available online, Legalinc can retrieve it quickly from the state and upload it to your account.
The Entity Dashboard lists the formation and all subsequent orders as well as the accompanying documents — incorporation, annual reports, state advices, and tax filings. Not all states have gone digital so Legalinc scans and uploads mail received from such states. Similarly, you can upload documents created outside of Legalinc's purview such as board minutes. Accordingly, every compliance document associated with the entity resides in Legalinc. If you're using LINC, you can provide access to this dashboard under your own brand to your clients.
What Else Should You Know?

Legalinc can transfer all the entities your firm currently manages to its platform for free. Legalinc charges an annual fee per entity plus any applicable state filing fees. Treutlein tells me that Legalinc charges significantly less than industry giants like CT Corporation. This gives you more latitude when pricing the services powered by Legalinc that you offer clients. Learn more about Legalinc.
How to Receive TL NewsWire
So many products, so little time. In each issue of TL NewsWire, you'll learn about five new products for the legal profession. Pressed for time? The newsletter's innovative articles enable lawyers and law office administrators to quickly understand the function of a product, and zero in on its most important features. The TL NewsWire newsletter is free so don't miss the next issue. Please subscribe now.