Below you'll find the TL NewsWire Top 10 and Top 25 Products of 2015 Awards — chosen by TL NewsWire subscribers.
When TL NewsWire subscribers read about a product of interest this year and clicked for more details, they passively casted a vote. Passive voting is the most meaningful type of voting for awards. The winners below genuinely attracted the most interest.
As you read about the winning products, you'll notice many that help lawyers create, annotate, and manage documents. Other hot product areas include email, law firm finances, litigation, and PDF. Finally, most of the products offer one or more key integrations, which enables law firms to combine previously siloed products into a cohesive system.
TL NewsWire is free — sign up now so you can choose next year's winners.
Congratulations to all the winners! Without further ado …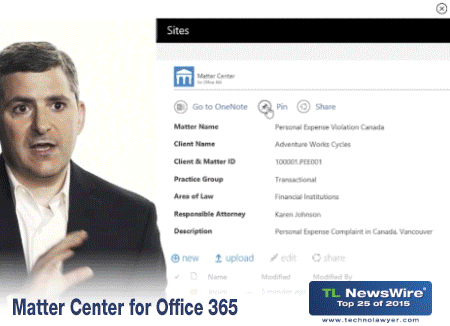 WINNERS OF THE TL NEWSWIRE TOP 10 PRODUCTS OF 2015 AWARD

Congratulations to the 10 hottest products of 2015 ranked in order by most clicks!
1. Matter Center for Office 365

Microsoft first previewed Matter Center at the ILTA Conference in August 2014. When Matter Center launched in September 2015 and we reported on it, TL NewsWire subscribers went bananas, vaulting it to a first place finish. Matter Center underscores the enduring popularity of both Microsoft Office and document management in the legal industry.
2. American Legal Style for PerfectIt 3

Fittingly in the year that gave us Ex Machina, American Legal Style for PerfectIt 3 proofreads your Word documents for incorrect citations and other style problems. It's like having Bryan Garner in your computer. Indeed, Garner's "The Red Book" is among the references American Legal Style for PerfectIt 3 can check your documents against.
Perhaps no legal software entrepreneur understands the pain of small law firms like Legal Matters Software founder John Ryan. Pretty much a gift to small firms given its $59.95 price, Synergy Tools 1.0 addresses nine pain points encountered daily by legal professionals who live in Windows Explorer.
4. Spark

It takes courage to build an iPhone email app given Apple's not-too-shabby Mail app. However, Readdle's Spark addresses Mail's biggest shortcoming — attachment handling. Spark enables you to attach documents from Dropbox, Box, Google Drive, iCloud Drive, and other cloud services the way your brain works — while writing your message.
5. LiquidText

LiquidText challenges you to use an iPad to annotate documents with interactions that don't exist on a PC but which hail from the world of pen and paper. Unlike Microsoft Word, Acrobat, etc., LiquidText gives your comments just as much of the spotlight as the document on which you're commenting. Apple named LiquidText the Most Innovative iPad App of 2015.
Passive time capture apps like Capture.it capture the imagination of lawyers because let's face it — tracking your time stinks. Capture.it takes automatic time-tracking to new heights by periodically prompting you to assign captured time to matters, eliminating the need to open Capture.it for a dedicated billing session at the last minute each month.
7. Smokeball

Smokeball burst on the scene this year with a document-centric approach to practice management. Integrations with Word and Outlook and a document assembly engine keep all communications with clients and work product centrally organized. Smokeball also handles the yeoman's chores of practice management such as contacts and calendars.

8. LegalWorks

Uptime Legal merits a tip of our hat as the only company in 2015 that won two TL NewsWire Top Products awards. First up, LegalWorks is a cloud document management system. At many firms, Outlook is the hub through which documents usually arrive and leave. LegalWorks' Outlook integration enables you to save and retrieve documents from within Outlook.
9. iPad Pro

The long rumored iPad Pro arrived along with a first-party keyboard case and digital pencil. Like virtually all Apple products, the iPad Pro resulted in fierce online debates and vitriole among geeks. Meanwhile, lawyers and others who have long craved an iPad with a display the size of a sheet of paper are buying them like hotcakes.
10. LegalNature Pro

Launched in 2011 to offer complex legal documents to people whom LegalZoom doesn't serve, LegalNature found that it had many lawyers among its customers. Enter LegalNature Pro, which enables lawyers to automate their own documents while continuing to use LegalNature's forms.
WINNERS OF THE TL NEWSWIRE TOP 25 PRODUCTS OF 2015 AWARD

Congratulations to the next 15 hottest products of 2015 ranked in order by most clicks!
11. Dragon Professional Individual 14

After fits and starts over the past few years, Nuance has integrated its iconic Dragon Professional desktop software with your iPhone via Dragon Anywhere. Start dictating in your office and continue in your car. Dragon Professional also offers a new help system driven by — what else? — voice commands.
Research and development is a way of life at ISPV, which ships a new version of its Microsoft Word add-in Pathagoras every year. In 2015, the company launched Pathagoras On Cloud, which brings the Pathagoras' document assembly tools to a web word processor. This enables you to create documents on any device as there's no need for Microsoft Word.
13. TrustBooks

Trust accounting can seem like more trouble than it's worth — until a client fails to pay a large bill. Unlike other products, TrustBooks focuses exclusively on trust accounts. It offers three-way reconciliation, warns you about low balances, and generates statements for your clients.
14. Lexis for Microsoft Office 5.2

The only product to win two consecutive years, Lexis for Microsoft Office added proofreading tools in 2015. You can find undefined terms and inconsistent phrases. Also new, integration with Lexis Advance brings your research into Microsoft Word for instant access while you're writing.
15. Summation 6

Many litigators don't always have matters in the discovery phase. Summation 6 enables you to use the software as needed rather than commit to a traditional license. It also offers one-stop-shopping as it handles case analysis and transcript management in addition to document review and production.
16. EstateExec

No one likes to plan for their death. EstateExec makes estate planning an easier sell for lawyers as it enables your clients to manage and designate all their assets using their web browser. If you don't like serving as an executor or trustee, EstateExec may help persuade someone else to take on that role.
17. FactBox

Small law firms in particular have embraced web apps for billing, practice management, and more. It stands to reason that these law firms will continue this migration. FactBox brings case analysis to your web browser with all data stored in U.S.-based datacenters.
18. Xero

Hoping to capture QuickBooks users who want a cloud accounting system, Xero rolled out QuickBooks migration this year. The process takes about three hours after which you and others can manage your firm's accounting from anywhere.
19. Worldox GX4

This release of the popular document management system focuses on saving you time through automation. For example, Follow Me Favorites shortens the process of creating a document profile to just naming the document — the same amount of effort as Windows Explorer.
Many lawyers view Outlook as a silo as it keeps a matter's email apart from all the other documents. SWING Porter for Outlook exports email in PDF format using your firm's naming convention. You can manually export email or use a timed schedule to automate the process.
21. Uptime Practice

The second winner from Uptime Legal, Uptime Practice enables law firms to move to the cloud without giving up their robust desktop apps such as Amicus Attorney, Needles, PCLaw, PracticeMaster, ProLaw, Tabs3, Time Matters, and WorldDox.
22. Inbox by Gmail

Google reinvented email with Gmail so who better to reinvent it again? Inbox by Gmail surfaces information from email messages so you don't need to open them. A built-in task manager and integrations with Google Keep and Google Now seek to provide missing links for email productivity.
23. Adobe Acrobat DC

After years of not getting the Internet, Adobe leapt ahead with Acrobat DC. The PDF documents you open on your desktop become available on your smartphone and tablet (and vice versa) instantly without the need to move the documents anywhere. The recent integration with Dropbox added more icing to this tempting cake.
24. Soda PDF 7

Soda PDF poses a greater threat to Nitro Pro than to Acrobat as both products compete for price-sensitive law firms that find Acrobat too expensive (especially with Adobe now pushing subscriptions). On this front, Soda PDF costs less than Nitro Pro while providing the features lawyers need such as Bates stamping, PDF-to-Word conversion, integration with scanners, built-in OCR, and more.
You can set your clock by the annual releases of popular practice management system Amicus Premium. This year brought the Amicus Client Portal for secure communications and file sharing with clients. Unlike standalone portals, the Amicus Client Portal prompts you to bill the time you spend communicating with your clients.
How to Receive TL NewsWire
So many products, so little time. In each issue of TL NewsWire, you'll learn about five new products for the legal profession. Pressed for time? The newsletter's innovative articles enable lawyers and law office administrators to quickly understand the function of a product, and zero in on its most important features. The TL NewsWire newsletter is free so don't miss the next issue. Please subscribe now.