Originally published in our free TL NewsWire newsletter. Instead of reading TL NewsWire here, sign up now to receive future issues via email.
Tablet Rasa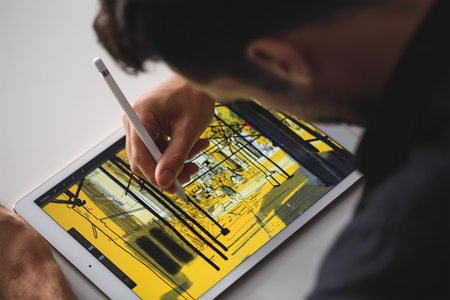 Technology supposedly makes your life simpler, but it often doesn't seem that way. For example, many of you likely take your laptop, iPad, smartphone, and a paper notebook with you when you travel. Too bad you can't replace one or more of these to lighten your load.
iPad Pro … in One Sentence

Announced today and shipping in November, Apple's iPad Pro is the company's new tablet for professional markets.
The Killer Feature

iPad Pro's 12.9 inch display (2732 x 2048 pixels at 264 ppi) facilitates a full-size touch keyboard. When you display two apps side by side in landscape, they're each the same size as one app in portrait on the iPad Air 2.
For faster typing, you can pair iPad Pro with Apple's new Smart Keyboard. Unlike third-party keyboard cases, Smart Keyboard connects to iPad Pro via the latter's Smart Connector. This new port powers the Smart Keyboard (no batteries required), and eliminates the need for a Bluetooth connection.
Other Notable Features

You can also pair iPad Pro with Apple Pencil, the company's new first-party stylus that senses its position on the display to eliminate lag. Apple Pencil also understands force and tilt when drawing. A lightning connector at the other end of Apple Pencil recharges its battery.
Apple Pencil works with the new versions of Apple's Mail and Notes apps. But more importantly for lawyers, Microsoft announced a new version of Office sporting a toolbar called Ink that integrates with Apple Pencil. With this combination, Word documents take on paper-like qualities, enabling you to cross out and use other proofreader symbols, write notes in the margin, highlight, and draw.
iPad Pro offers three color choices — gold (white front), silver (white front), and space gray (black front). You can expect about 10 hours on a full charge. Other features include Siri, Touch ID, 8 megapixel rear camera, 1.2 megapixel front camera, dual microphones, and four speakers that automatically switch between left and right depending on their orientation. iPad Pro measures 12 x 8.68 x 0.27 inches, and weighs 1.57 pounds (713 grams).
What Else Should You Know?

iPad Pro comes in three configurations — $799 (32 GB; WiFi), $949 (128 GB; WiFi), and $1,079 (128 GB; WiFi and LTE cellular). Smart Keyboard costs $169 while Apple Pencil costs $99. Learn more about iPad Pro.
How to Receive TL NewsWire
So many products, so little time. In each issue of TL NewsWire, you'll learn about five new products for the legal profession. Pressed for time? The newsletter's innovative articles enable lawyers and law office administrators to quickly understand the function of a product, and zero in on its most important features. The TL NewsWire newsletter is free so don't miss the next issue. Please subscribe now.