Today's issue of TL NewsWire offers a special hands-on report of the iPad Pro (see article below), and also covers a third-party iPad Pro keyboard case, a CLE provider with a sense of humor, and trial presentation software. Don't miss the next issue.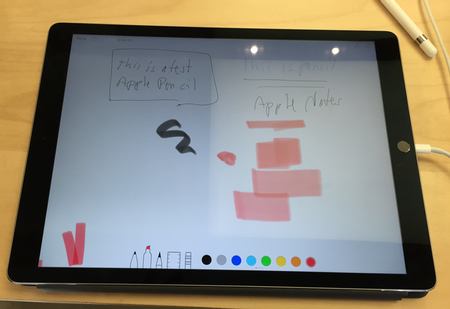 Earlier today, I took an iPad Pro for a test drive at the Apple store in Manhattan's meatpacking district. With most of the 280 units on hand already sold, the staff was instructed to unbox only one for the floor rather than the 10 planned. Fortunately, only five of us were on hand, including a Google employee sporting a new BlackBerry Priv that drew almost as much attention.
In 2012, a brief article of mine about using the iPad mini for handwritten notes in law practice went viral, and even received some ribbing from the Wall Street Journal's Best of the Web column. Sadly, the iPad mini never worked out for handwriting because of the sad state of iPad styluses (I continue to use an iPad mini for many other tasks).
With the release of the Apple Pencil for the iPad Pro, I had to see if lawyers have finally reached the promised land. I spent a few minutes in Apple's much-improved Notes app. When I started writing, an onlooker let out a long "wooooow."
The table was not an ideal height, but I could tell immediately that the Pencil is more responsive than any other iPad stylus I've trued, including my current flawed Bamboo Fineline. It's still very much a stylus. It's not like writing on paper. It feels and sounds different. I didn't have enough time to judge speed. The Pencil's true magic lies in drawing. As you increase the angle, you get a broader stroke. See the above photo for my scribblings.
Finally, a few thoughts about other aspects of the iPad Pro.
I have an obsession with weight — not mine but tablets and to a lesser extent smartphones. The 37 grams Apple shaved off the iPad mini 4 versus the 2 and 3 have made the former a dream machine. The iPad Pro on the other hand is a beast. You feel every one of its 713 grams no matter how you hold it. It's the LeBron of iPads. The display can display a document at its true size. Websites look terrific. Two apps side by side in split view remain usable for input. I suspect many iPad Pros will spend a lot of time in split view.
You don't hold this iPad. You place it on your desk or kitchen bar, and maybe on your lap or stomach. I held but didn't use Apple's Smart Keyboard so I don't have an opinion yet. The store had Logitech's Create keyboard case in stock but not on display. I'm sure a number of stands are in development for those who don't need keyboards.
Is the iPad a Pro a serious productivity machine and laptop replacement? No one knows yet. It takes time to find out. Given Apple's generous holiday return policy of January 8 for purchases made this time of year, you can buy an iPad Pro for a six-week evaluation. Learn more about iPad Pro.
How to Receive TL NewsWire
So many products, so little time. In each issue of TL NewsWire, you'll learn about five new products for the legal profession. Pressed for time? The newsletter's innovative articles enable lawyers and law office administrators to quickly understand the function of a product, and zero in on its most important features. The TL NewsWire newsletter is free so don't miss the next issue. Please subscribe now.