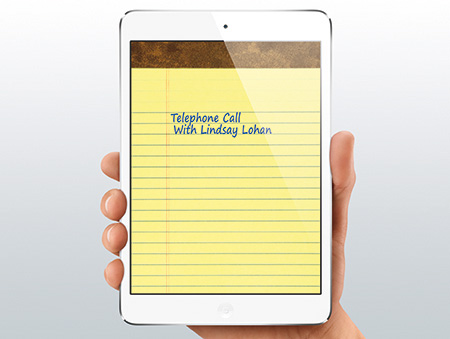 Mainstream technology publications can tell you about the iPad mini's size, weight, and other specifications. But don't bother combing through those articles for lawyer use cases.
With prices ranging from $329 to $659, the new iPad mini (7.9-inch non-retina display) costs significantly less than the new fourth generation iPad (9.7-inch retina display). However, lawyers have already found many uses for the latter iPad and its predecessors (e.g., remotely controlling a Mac or PC, exhibiting documents at trial, etc.).
But what about the iPad mini? Does a use case exist that justifies its purchase?
Yes — note-taking.
I've gone completely paperless except that I still keep a 5 x 7 inch notebook on my desk for jotting down ideas and notes, especially when I'm on the phone. Notebooks are just plain faster than using your computer (some notes such as meetings end up in my computer afterwards). They're also more flexible. For example, you can circle something to emphasize its importance. I like the small size because I prefer dedicating a single page to each telephone call or thought. The downside to notebooks is that you cannot search paper. Also, they fill up. Then what? Save or shred?
The iPad measures 7.3 x 9.5 inches. That's too large to keep by my telephone — and also too expensive to dedicate to a single task. The new iPad mini measures 5.3 x 7.8 inches — slightly larger than the paper notebook I use. A quality note-taking app and stylus cost about $30 combined (I use the Bamboo Stylus Pocket; I'm still evaluating note-taking apps).
Is $350 too much for a notebook? Not by my reckoning. You can keep all the notes you ever take. You can annotate and organize them so you can easily find them. You can sync them so that you can access them from other devices. Thanks to the iPad mini's 10-hour battery life, you can turn off Auto-Lock so that it's on all day ready for you to jot down notes just like a paper notebook.
And let's not forget. You need not limit your iPad mini to note-taking. Given its 0.68 pound weight, you can bring it home and on trips for checking email, playing games, reading books, web surfing, etc. The LTE cellular version of the iPad mini can serve as a secure hotspot that will last a lot longer than your iPhone.
Like me, many lawyers take handwritten notes. The iPad always felt too large and heavy for this task. By contrast, the iPad mini seems perfectly suited. When introducing the iPad mini yesterday, Apple executive Phil Schiller said, "It's as light as a pad of paper." To finish Phil's thought, it can also replace a pad of paper on every lawyer's desk.
For further reading (TechnoLawyer Archive subscription required) …
Brett Burney, The Best iPad Stylus, SmallLaw (January 19, 2012).
Brett Burney, The Best iPad Handwriting App, SmallLaw (February 7, 2012).
Brett Burney, The Best iPad App for Obtaining Signatures on Documents, SmallLaw (March 7, 2012).
Brett Burney, The Best iPad App for Taking Audio-Synced Notes, SmallLaw (July 24, 2012).
Brett Burney, The Best iPad App for Typing Notes, SmallLaw (September 12, 2012).
How to Receive TL Research
Our flagship newsletter offers in-depth buyer's guides and other helpful reports for everyone in the legal profession. Many reports about the legal industry use flawed data and are therefore unreliable. By contrast, TL Research reports provide you with insightful information on which you can rely by combining sound statistical techniques with exhaustive research and analysis. Just as importantly, the experts who write TL Research reports use jargon-free plain English, and often include benchmarks, charts, and other comparative tools and visuals. The TL Research newsletter is free so don't miss the next issue. Please subscribe now.