Originally published in our free TL Serendipity newsletter. Instead of reading TL Serendipity here, sign up now to receive future issues in realtime.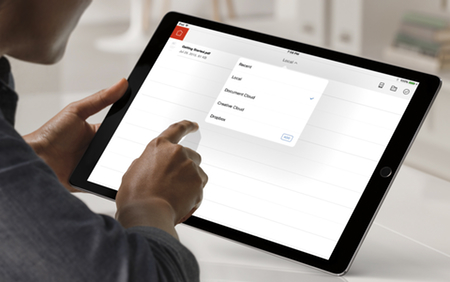 You probably use automatic updates so in case this slipped under your radar, Adobe delivered its biggest update ever today for Acrobat DC (Android coming soon I suspect). At long last, Acrobat now integrates with Dropbox! (And just in time for the iPad Pro probably not by accident.)
Stop. The. Presses. Other makers of mobile PDF apps have to be shaking in their boots because the Acrobat implementation seems unbeatable.
In my review of Acrobat DC, I waxed poetic about Mobile Link. When you open a PDF document on any device, it becomes available on all your other devices running Acrobat. You don't need to move files around. The only gotcha was the first step of opening a document, especially on Android and iOS.
Adobe offers a free cloud storage service called Document Cloud (the "DC" in Acrobat DC). It's reliable but clunky to use. Even if it were slick, there's no chance legal professionals would abandon their beloved Dropbox accounts. Dropbox has become the de facto file system on mobile devices, and for many even on desktops.
Adobe obviously realizes this, resulting in today's massive update. Now Acrobat DC truly is seamless. You navigate through your Dropbox folders, open the PDF file you want, and then it automatically becomes available across all your devices without having to repeat this folder diving. Instead, you'll find the documents you open in the Mobile Link Recents menu.
Any annotations and other changes automatically get saved in the original file you opened in Dropbox. This is a huge step forward in PDF productivity on iOS. You're literally working directly from Dropbox. There's no need to download and then re-upload a new version though you can do that if needed.
I agree with Jeff Richardson of iPhone JD fame on most things iOS but not PDF apps. He's a GoodReader fan. And I'm in the minority as most lawyers who go public with their preferences seem to use GoodReader or PDF Expert. Will Jeff and other fans of GoodReader and PDF Expert continue to use these mobile PDF apps?
I gave up on GoodReader in a New York minute because you have to download PDF files from Dropbox to your local iPad storage before you can open them, and of course there's no equivalent of Mobile Link in GoodReader for making any PDF file you open automatically available on your Mac or PC. This seems antediluvian to me, especially with today's Acrobat update.
P.S. Not surprisingly, Dropbox has a better web page about today's news than Adobe. Each new integration strengthens Dropbox.
Neil J. Squillante created TechnoLawyer and serves as its publisher.
How to Receive TL Serendipity
Our most serendipitous offering (hence its name), TL Serendipity consists of contributions by TechnoLawyer members who have important information to share. You'll no doubt enjoy it because of its mix of interesting topics and genuinely useful knowledge, including brutally honest product reviews and informative how-tos. The TL Serendipity newsletter is free so don't miss the next issue. Please subscribe now.