Today's TL NewsWire Hot Product is cloud practice management software designed to get your firm up and running quickly while also offering a seamless path to more advanced functionality when needed (see article below). In addition, you'll find links to many previous TL NewsWire Hot Products, including a cloud CRM platform that enables law firms to capture leads and nurture them into clients. Don't miss the next issue of TL NewsWire.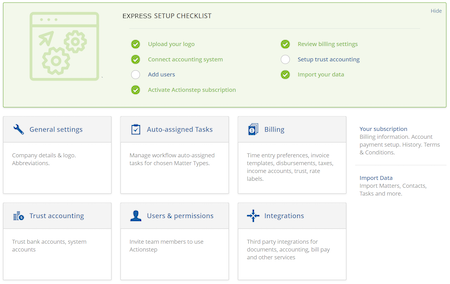 With dozens of settings and even more features, a modern cloud practice management system can seem daunting. It's difficult to know where to start. Many features may go unused for months or even forever depending on the needs of your firm. Ideally, you'd be better served by a product with only the essentials that also offers a path to more advanced features when you're ready for them.
Actionstep Express in One Sentence
Launching this week, Actionstep Express is cloud practice management software designed for a quick start while offering more advanced features if or when needed via sibling products Actionstep Practice Pro and Actionstep Enterprise.
The Killer Feature
Actionstep was the first cloud practice management product when it launched in 2006. What is now called Actionstep Enterprise differentiated itself with its Workflows technology, enabling law firms to automate their business processes. Because of their flexibility and power, Workflows can require a significant investment of time to create.
Actionstep Express ships with a collection of pre-built Workflows for common practice areas. This eliminates having to build them yourself. Because no two firms are exactly alike, you can add your own custom tasks to each Workflow. Designate tasks as required or optional, calculate due dates based on triggers such as the completion of a prior task, and create and auto-assign tasks to members of your team. When someone completes a task, Express can create a time entry.
"Actionstep Express works out of the box, including pre-configured practice-area Workflows," says Founder and CEO Ted Jordan. "Firms can fine-tune the workflows by adding automated tasks at each step. Express is the best of both worlds -- all the advantages of workflow, without the setup hassle. Seamless upgrade paths mean that firms will never outgrow Actionstep."
Other Notable Features
Express provides you with everything you need to get up and running on one screen such as adding your firm's details and logo, creating accounts for your team and setting their permissions, and entering your billing and trust accounting preferences. If you currently use another product, Actionstep offers a data migration tool and can assist you with the move.
The dashboard in Express keeps you apprised of your tasks and calendar events as well as recent activity on your matters. The activity feed can also alert you about new prospects if you use Express' customer relationship management (CRM) tools. Visually track prospects from initial contact through engagement and add them to a mailing list to nurture them.
When a prospect wants to retain your firm, the conflict checker -- the same as the one in Enterprise -- can search all records with one click or construct an advanced query. Export the results in Excel or PDF format for point-in-time proof of no conflict.
Express includes several technologies designed to improve productivity and help your firm grow. For example, the Intelligent Timesheet lists events and tasks without a corresponding time entry. The Mass Billing tool lists all clients with unbilled items -- one click batch generates all the bills and emails them. Express offers many reports for analyzing your firm's finances and other data.
What Else Should You Know?
Express integrates with QuickBooks Online and Xero for accounting, Office 365 and G Suite for calendar syncing, and Word and Outlook for saving documents and email in matters. Express costs $49 per user per month with an annual commitment ($59 per month otherwise). If you outgrow Express, you can upgrade to Actionstep Practice Pro or Enterprise (the company also offers a "data back guarantee"). Explore Actionstep Express and bookmark the website.
About TL NewsWire
So many products, so little time. Each week, TL NewsWire reports on the hottest new products for lawyers and law office administrators. The innovative structure of TL NewsWire articles enable you to quickly understand each product's value proposition, and then zero in on its killer feature and other notable attributes. In each issue, you can easily revisit our back catalog of articles and the most recent TL NewsWire Top 25 Products Awards. Subscribe to TL NewsWire.