Read our latest coverage of Search Advantage here
.
Today's TL NewsWire Hot Product is knowledge management software that enables you to mine your firm's own work product and the SEC's EDGAR database for model clauses and precedents using classification technology pioneered by Intelligize (see article below). In addition, you'll find links to many previous TL NewsWire Hot Products, including a popular document assembly product rewritten with more accessible authoring tools embedded in Microsoft Word and a modern browser-based experience for end users. Don't miss the next issue of TL NewsWire.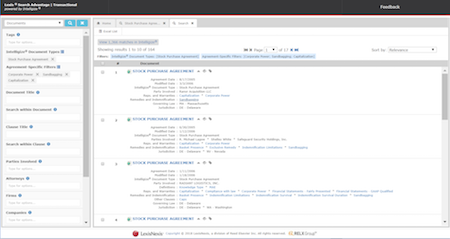 When a law firm grows to a certain size, you become unaware of most of the work product being produced in your own practice group. Over the years, you can even forget about your own work product. Accordingly, being able to find and reuse past work product has become an essential productivity tool in corporate practice.
Lexis Search Advantage | Transactional Powered by Intelligize in One Sentence
Lexis Search Advantage | Transactional Powered by Intelligize (Lexis Search Advantage | Transactional), which integrates with your firm's document management system to better classify your firm's work product, incorporates the search technology of Intelligize for more precise and expansive search results.
The Killer Feature
Intelligize revolutionized SEC EDGAR searches — so much so that LexisNexis acquired the company in 2016. As a result, Lexis Search Advantage | Transactional is built on Intelligize, enabling you to search both your firm's work product and EDGAR using a similar interface.
The Intelligize integration brings more than 300 classifications to your firm's documents with a 90% confidence level. For example, document types include Articles of Merger, Asset Purchase Agreement, Stock Purchase Agreement, Underwriting Agreement, etc.
Not all helpful work product resides within your firm. With one click, you can transfer your Lexis Search Advantage search to Intelligize to find similar documents among all SEC filings. Another click takes you back to Lexis Search Advantage | Transactional.
"Lexis Search Advantage | Transactional Powered by Intelligize is one example of how we put the power of data-driven law in our customers' hands," says Jeff Pfeifer, Vice President of Product Management, LexisNexis. "This new tool in the Lexis Analytics suite sits behind a firm's firewall and helps attorneys mine enriched internal documents while searching precedent agreements filed with the SEC to deliver better client value."
Other Notable Features
Lexis Search Advantage | Transactional has a two-paned interface with your search criteria on the left and the search results on the right. In addition to entering keywords, you can also choose from several filters, including the new Intelligize document types noted above as well as specific deal points (e.g., gold in the backyard and sandbagging in merger agreements). Other search filters include document title, clause title, parties involved, attorneys, firms, companies, governing law, jurisdictions, and date range. Your firm can customize these search fields when you implement Lexis Search Advantage| Transactional.
The new tabbed interface for search results enables you to toggle back and forth among searches. Icons next to each item in the search results indicate document format (Word, PDF, etc.). A new "tags" feature draws your attention to a document's significant attributes. A designated team at your firm can define all the "public tags" for consistency. You can supplement these with your own personal tags (called "My Tags") that only you can see. You can use both types of tags to narrow your search results.
Each document that your searches reveal contains a rich set of metadata for quick exploration, including definitions, reps and warranties, covenants, conditions, and remedies and indemnification. Click a covenant such as "gold in the backyard" for example and Lexis Search Advantage | Transactional displays that provision in a snippet. You can export multiple snippets and compare them side by side in an Excel document.
What Else Should You Know?
Lexis Search Advantage | Transactional integrates with popular document management systems such as NetDocuments, iManage, and eDOCS. All security settings in your document management system, including ethical walls, are inherited by Lexis Search Advantage | Transactional. Explore Lexis Search Advantage | Transactional Powered by Intelligize and bookmark the website.
About TL NewsWire
So many products, so little time. Each week, TL NewsWire reports on the hottest new products for lawyers and law office administrators. The innovative structure of TL NewsWire articles enable you to quickly understand each product's value proposition, and then zero in on its killer feature and other notable attributes. In each issue, you can easily revisit our back catalog of articles and the most recent TL NewsWire Top 25 Products Awards. Subscribe to TL NewsWire.