Today's issue of TL NewsWire Today's TL NewsWire Hot Product is cloud billing and practice management software that now includes full business accounting, eliminating the need for a third-party solution (see article below). In addition, you'll find links to many previous TL NewsWire Hot Products, including cloud timekeeping software for small and midsize firms that automatically captures and categorizes your time. Don't miss the next issue.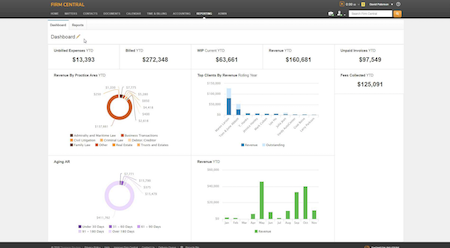 It's hard to believe but lawyers once carried both a cell phone and a Palm Pilot, and earnestly debated the benefits of specialized hardware. More recently, lawyers have debated specialized software versus all-in-one software. The latter has the momentum, especially the convergence of accounting, billing, and practice management functions.
Firm Central in One Sentence

Thomson Reuters' Firm Central is cloud practice management and billing software (rated A by TechnoLawyer) that now includes full accounting functionality for front and back office management in one solution.
The Killer Feature

"Having the accounting built into the practice management system is extremely useful, more accurate and a huge time saver," says elder law attorney William B. Rambaum of William B. Rambaum PA.
One of the principal reasons Firm Central saves attorneys like Rambaum time is because the new accounting system eliminates the need for third-party accounting software. Firm Central now has all the same core functionality as products like QuickBooks — chart of accounts, check printing, credit card payments, general ledger, management of payables and receivables, etc.
Even better, the first-party nature of these features enables Firm Central to exceed the capabilities of third-party products. This is best exemplified by Firm Central's new Auto-Posting rules and Dashboard.
With Auto-Posting, you can automatically apply client payments, firm expenses, and more. For example, when a client pays you, Firm Central can automatically post all the related transactions to accounts receivable, the client's trust account, and your firm's general trust account. If the invoice contains several categories of charges, Firm Central can further split payments among accounts for legal fees, recovered expenses, taxes, and write-offs.
With the new Dashboard, you can see Revenue by Practice Area, Top Clients by Revenue, Aging AR, Unpaid Invoices, Unbilled Expenses, Fees Collected, and more on one screen.
"With Firm Central's fully integrated trust and business accounting software, lawyers can now manage all aspects of their practice in one secure complete platform," says Mark Haddad, general manager of Thomson Reuters' Small Law Firm segment. "Solo and small firm lawyers can quickly and easily track their financial activity and generate detailed reports, all within Firm Central. This approach improves efficiency, making it easier to manage finances and keep a close eye on the bottom line."
Other Notable Features

When clients pay you via credit card, Auto-Posting becomes even more automated. Firm Central includes ClientPay, enabling you to embed payment links and QR codes into invoices. ClientPay offers a lower-than-average rate of 1.95% for most transactions, and processes payments in a compliant manner to prevent ethics violations.
Firm Central offers a number of other notable advanced features. Switch between cash and accrual accounting to view your firm from different perspectives. Reconcile bank, credit card, and trust accounts, save a report in PDF format, and even undo a reconciliation if necessary. Apply client payments and pay bills in bulk or individually. Create rules defining who can request and approve checks.
More than a dozen reports in Firm Central enable you to analyze your firm's performance. Reports include balance sheet, profit & loss, collection realization by client, matter, or lawyer, sales tax liability, write-offs, and more.
What Else Should You Know?

Thomson Reuters offers several Firm Central plans, including options such as Deadline Assistant for rules-based litigation calendars. The Import Accounts tool gets you up and running quickly by importing clients, matters, accounts, and balances from your existing accounting system. Thomson Reuters provides migration support if needed. Explore Firm Central in more detail.
How to Receive TL NewsWire
So many products, so little time. In each issue of TL NewsWire, you'll learn about five new products for the legal profession. Pressed for time? The newsletter's innovative articles enable lawyers and law office administrators to quickly understand the function of a product, and zero in on its most important features. The TL NewsWire newsletter is free so don't miss the next issue. Please subscribe now.