Today's issue of TL NewsWire covers cloud timekeeping software for small and midsize firms that automatically captures and categorizes your time (see article below). In addition, you'll find links to the previous 11 TL NewsWire features, including our coverage of a legal research service that uses artificial intelligence to find court opinions that match the facts, legal issues, and jurisdiction of your client's case, new research tools for analyzing, visualizing, and identifying trends in health care fraud and securities violations, and much more. Don't miss the next issue.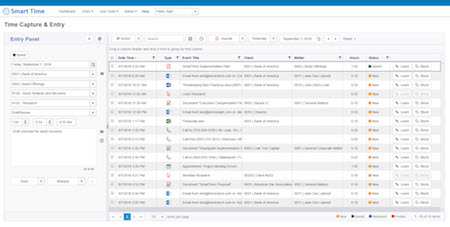 The billable hour has proven a durable business model but it remains a source of frustration for small law firms. Contemporaneous timekeeping requires expensive software that only large firms can afford while reconstructing billable time requires too much effort and is inherently unreliable. Having your assistant enter your time combines each of these flawed approaches.
Smart Time 5 … in One Sentence

Launched this month, Smart Time 5 is the first cloud version of this established timekeeping software, making it available to small law firms for the first time.
The Killer Feature

Many of the country's largest firms use the on-premises version of Smart Time. Version 5 "brings features long used by Am Law 200 firms to small firms for the first time," says Smart Time Apps CEO & Founder Todd Gerstein.
For example, Smart Time includes Billing Guidelines that prevent users at your firm from posting time entries that don't comport with internal or client policies. You can create these guidelines at the firm, client, or matter level. Gerstein showed me a few common guidelines such as no block billing and descriptions limited to a certain number of characters. Using "narrative text logic, you can even require certain words (e.g., "email" must be paired with "regarding").
"What we've built is a single, but infinitely scalable, timekeeping solution," says Gerstein. "Whether you're a small, midsize, or large firm, you get the exact same system and features that make Smart Time the most powerful timekeeping system on the market."
Other Notable Features

Smart Time accommodates all three methods of timekeeping — contemporaneous, reconstructive, and collaborative. Contemporaneous timekeepers can use timers and create time entries when they complete each task. A local Windows application records all your activity for accurate reconstructive tracking that you and/or your assistant can access using the web interface.
Traditionally, reconstructive trackers like this require sleuthing to match activities with matters. Smart Time features a Relationship Engine that automates this matching. After importing your clients and matters, you can expect Smart Time to correctly categorize about 75% of your billable activity. "Learn" and "Block" buttons next to each unrecognized time entry on the Time Capture & Entry dashboard train Smart Time further until it attains near 100% accuracy (the Block button trains Smart Time to ignore activities such as personal email, etc.).
Smart Time enables you to prospect for missing time by selecting a blank block of time on the main dashboard and running a Gap Analysis. This generates a list of recorded unbilled activity during that time period. According to Gerstein, Smart Time's Gap Analysis recovers 8-10 hours of additional billable time per timekeeper per month on average. The main dashboard offers a wealth of additional business intelligence tools that slice and dice your time data to give you greater insight into your goals.
"Smart Time has been the only software that has facilitated my ability to bill contemporaneously or to recreate my time three months later (I happen to do both)," says Liz Messianu, a partner at Florida-based Lubell Rosen. "Nothing is missed, nothing is left unbilled which you have touched, phoned, created, read, looked at, or sent electronically. What more can a busy attorney want? It works."
What Else Should You Know?

Smart Time offers mobile apps for Android and iPhone, enabling you to add and edit time entries on the go. The mobile app has all the same functionality, including timers. Learn more about Smart Time 5.
How to Receive TL NewsWire
So many products, so little time. In each issue of TL NewsWire, you'll learn about five new products for the legal profession. Pressed for time? The newsletter's innovative articles enable lawyers and law office administrators to quickly understand the function of a product, and zero in on its most important features. The TL NewsWire newsletter is free so don't miss the next issue. Please subscribe now.