Today's issue of TL NewsWire covers a legal research service that uses artificial intelligence to find court opinions that match the facts, legal issues, and jurisdiction of your client's case (see article below). In addition, you'll find links to the previous 11 TL NewsWire features, including our coverage of new research tools for analyzing, visualizing, and identifying trends in health care fraud and securities violations, a popular accounting, billing, and practice management system with a new design, including customization for a more personal and productive experience, and much more. Don't miss the next issue.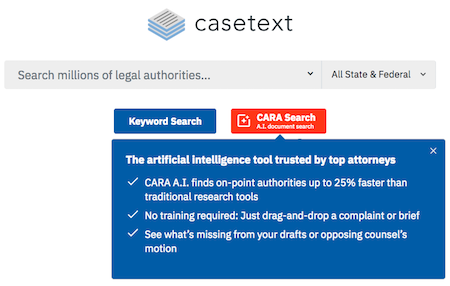 Remember the days of struggling to find a case with similar facts? Or wondering if opposing counsel missed a key case? Or learning that your legal research plan doesn't include a reference? If these old days sound like your present day, keep reading.
Casetext … in One Sentence

Casetext is an online legal research service with an artificial intelligence (AI) search engine called CARA designed to save you time and deliver better results.
The Killer Feature

Casetext supports Boolean syntax and natural language searches but CARA offers a third alternative. You drag and drop a complaint, brief, etc. into the CARA search platform. Then enter a few keywords (e.g., copyright, duty of care, mezzanine debt, Robinson-Patman, etc.).
This CARA search results in a list of cases ranked by relevance based on the facts, legal issues and jurisdiction of your client's case. Symbols indicate whether the case is cited in the document you uploaded, enabling you to find cases not cited by opposing counsel.
"Get a motion that you have to respond to, run it through CARA, put some keyword searches in, and I bet you you'll get your answers very, very quickly," says Karen Coolman Amlong of The Amlong Firm. "And I think the proof is in the pudding. You get that kind of response, and you say, 'Wow. This is cool.' And then you look at the pricing and say, 'It's really cool.'"
"Thanks to CARA, legal professionals finish their research about 25% faster than with traditional tools," says Casetext CEO and Co-Founder Jake Heller. "For too long, we lawyers have had to choose from a handful of not-so-great and expensive legal research options. Our goal at Casetext is to change that. We've brought cutting-edge, efficient legal research technology that attorneys actually love using to over two dozen Am Law 200 firms, as well as to over 700 solo attorneys and small firms like The Amlong Firm."
Other Notable Features

No matter what type of search you run, Casetext offers a number of tools to help you pinpoint the best cases. You can search within a search and limit search results to jurisdictions and courts of interest. Casetext highlights Key Passages — portions of the case frequently cited — and lists these citations for you to explore with a click. The Casetext Citator at the top of each case warns you about negative treatment.
Along the left side of the search results you'll find several AI-powered tools. Holdings displays the court's legal conclusions in the cases listed whereas Black Letter Law lists indisputable findings in these cases. You can also review cited statutes and regulations, as well as related briefs, client memos, and articles from top law firms.
When you copy a passage from a case, Casetext's Copy with Cite technology automatically adds the citation in Bluebook format to your clipboard. It also formats the passage you copy as a block quote if it contains 50 or more words. You can copy the passage as a parenthetical citation if you prefer.
What Else Should You Know?

Casetext includes all federal cases, all state appellate cases from the 1950s to present (California from the 1850s), and all state and federal statutes and regulations. A Casetext subscription costs $65 per month with an annual commitment ($89 per month otherwise), and includes unlimited access to everything. Learn more about Casetext.
How to Receive TL NewsWire
So many products, so little time. In each issue of TL NewsWire, you'll learn about five new products for the legal profession. Pressed for time? The newsletter's innovative articles enable lawyers and law office administrators to quickly understand the function of a product, and zero in on its most important features. The TL NewsWire newsletter is free so don't miss the next issue. Please subscribe now.