Today's issue of TL NewsWire covers OCR software that automatically finds unsearchable documents in your document management system, Windows PCs, and cloud storage services, and makes them searchable (see article below). In addition, you'll find links to the previous 11 TL NewsWire features, including our coverage of software for managing deal closings, including creating signature packets, tracking who has and hasn't signed, and generating PDF closing binders, cloud real estate closing document automation software for CD and HUD transactions that handles all calculations and tax filings, and much more. Don't miss the next issue.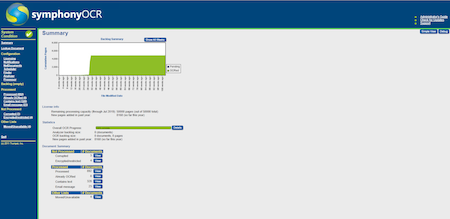 It's frustrating when you can't find a document that you know exists. But even worse is being unaware that an important document exists even when your search terms should pull it up. For example, failing to find a relevant document during a conflict search or when responding to a subpoena can expose your firm to liability. Law firms should not have any unsearchable documents.
Symphony OCR … in One Sentence

Trumpet's Symphony OCR automatically finds unsearchable documents wherever you store them, enabling you to discover them with keyword content searches.
The Killer Feature

"Law firms don't know what they don't know," says Trumpet CEO Kevin Day. No matter which document management system a law firm uses, typically 30% of the documents are unsearchable.
This happens for a variety of reasons. Some of your colleagues may skip OCR when scanning documents to get the job done faster. Documents that arrive as email attachments from clients and opposing counsel are often unsearchable. Etc.
Symphony OCR uses a two-step process to address this problem. First, it analyzes your firm's documents and flags those that cannot undergo OCR such as encrypted files. This report gives you deep insight into your firm's documents at any given time.
Next, Symphony OCR begins converting documents starting with the newest and working backwards. A histogram shows the progress. After the initial run, Symphony OCR will identify and convert new documents in minutes. In fact, you can specify how often Symphony OCR scans for new documents and which repositories to prioritize.
Other Notable Features

Symphony OCR offers higher precision than competing products because it analyzes each page instead of the document as a whole. Thus, Symphony OCR will find a 150-page document with only one page that needs OCR.
"Symphony OCR analyzes every single document, page by page, to identify image-based content and convert it to digitized, searchable text," says Day. "This ensures that when a firm conducts a search for conflict checks, responses to subpoenas, or other compliance-related searches, 100% of their files can be found based on their content."
Symphony OCR is non-invasive so it does not alter document content. It places the searchable text in an invisible layer over the document image. You can use the Rollback button to restore the document to its original state. Alternatively, you can save the OCR version of the document as a new version and either keep or discard the original.
It can take as little as 45 minutes to set up Symphony OCR. It integrates with popular document and practice management systems such as NetDocuments, ShareFile, SharePoint, Worldox, PracticeMaster, and Time Matters. You can also point it to any document repository such as a Windows or Dropbox folder.
"Things are going great with Symphony OCR," says Valerie Colbert, Office Manager at Duncan, Bressler & Liu Inc. "We love it. Everyone benefits because once the items are saved in Worldox we don't have to worry about them anymore. Before Symphony OCR, we would have to take the time to OCR each and every document. With Symphony, it's done every night savings us a lot of time. This was a program that was worth purchasing."
What Else Should You Know?

Symphony OCR can run on any Windows server in your firm (it does not need a dedicated server). If you prefer, you can host Symphony OCR in the cloud. Learn more about Symphony OCR.
How to Receive TL NewsWire
So many products, so little time. In each issue of TL NewsWire, you'll learn about five new products for the legal profession. Pressed for time? The newsletter's innovative articles enable lawyers and law office administrators to quickly understand the function of a product, and zero in on its most important features. The TL NewsWire newsletter is free so don't miss the next issue. Please subscribe now.