Today's issue of TL NewsWire covers document comparison software that adds legal-specific functionality to Microsoft Word's Track Changes and which integrates with popular document management systems (see article below). In addition, you'll find links to the previous 11 TL NewsWire features, including our coverage of a Mac document management system that combines the familiarity of the Finder with legal-specific tools such as automated email capture, a legal payments platform that enables your firm to accept payment by e-check or credit card without having to change your billing process, and much more. Don't miss the next issue.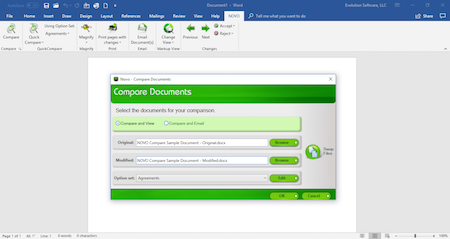 Microsoft Word's Track Changes offers a barebones document comparison experience designed for the mass market, not legal professionals. But it's convenient because it resides where you work — in Word. Recognizing this, Evolution Software set out to enhance Track Changes rather than require you to change your workflow.
NOVO Compare … in One Sentence

Evolution Software's NOVO Compare is document comparison software that enhances Microsoft Word's Track Changes for generating legal-specific redlines.
The Killer Feature

NOVO Compare resides in its own toolbar on the Microsoft Word Ribbon. Once you configure NOVO Compare, the QuickCompare menu enables you to compare documents with a minimum of clicks. "Our clients asked us to develop a better way to quickly and efficiently compare documents," says CEO Chris Cangero. "QuickCompare is our solution, delivering a practical design and advanced automation."
With QuickCompare, you can compare the active document to another open document in the background, a local or network document via Windows Explorer, or a different document or version in your document management system (DMS). Without any extra clicks, you can decide to make the active or the target document the baseline.
NOVO Compare integrates with the following DMS — iManage, NetDocuments, OpenText, SharePoint, and Worldox. If you use one of these, QuickCompare gains additional options such as comparing he last two versions of a document in your DMS, two different documents in your DMS, or a document in your DMS to a local document.
"NOVO Compare and QuickCompare specifically is of great value to our firm's users," Cheyenne Harden, Director of Information Technology at O'Reilly Rancilio P.C. "QuickCompare allows our staff to reduce the time it takes to produce and correct legal documents. It is truly a timesaver!"
Other Notable Features

NOVO Compare offers a deep collection of settings. You can save sets of settings and switch among them from the toolbar. Most importantly, you can decide what to include and exclude when comparing documents. For example, you can exclude white space, comments, formatting and case changes, etc. You can also modify how changes are shown and in what color.
Other settings enable you to choose the format of the redline (DOCX, DOC, PDF, or XPS), the page layout, whether to show the reviewing pane, how to handle paragraph and footnote numbering, and whether to create a Comparison Summary report in a separate document or before or after the redline. One of the more interesting settings acknowledges today's widescreen monitors, enabling you to show the original and modified documents alongside the redline. In this view, scrolling through the redline automatically scrolls the other two documents.
A number of tools exist for reviewing a redline and accepting/rejecting changes. You can magnify changes to make them easier to see without changing the formatting of the underlying document. You can also switch between a traditional redline view and Word's inline track changes. If you prefer reviewing on paper, you can choose from two settings depending on how much detail you want.
What Else Should You Know?

NOVO Compare integrates with Outlook for sharing redlines. Select the format, and send only the redline or also the original and/or the modified document. NOVO Compare costs $99 per user per year. This includes new features, software updates, and technical support. Learn more about NOVO Compare.
How to Receive TL NewsWire
So many products, so little time. In each issue of TL NewsWire, you'll learn about five new products for the legal profession. Pressed for time? The newsletter's innovative articles enable lawyers and law office administrators to quickly understand the function of a product, and zero in on its most important features. The TL NewsWire newsletter is free so don't miss the next issue. Please subscribe now.