Today's issue of TL NewsWire covers case management software that runs on Windows, Android, and iOS with features, customization options, and integrations that acknowledge today's world (see article below). In addition, you'll find links to the previous 11 TL NewsWire features, including our coverage of an online marketplace for finding contract lawyers without running afoul of ethics rules, an accounting and practice management system that automates client intake, rules-based calendaring, and document creation, and much more. Don't miss the next issue.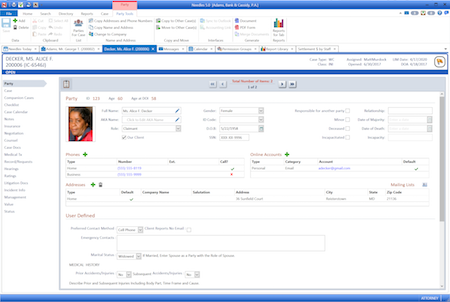 For many lawyers, the ideal case management software would consist of native desktop and mobile applications with options for on- or off-premises hosting of the data, and the ability to integrate with any new cloud service. One legal technology veteran spent the last five years rewriting its software from scratch to make this dream come true.
Needles 5 … in One Sentence

Launching this week at AAJ 2018, Needles 5 is a case management system renowned for customization options that can now integrate with third-party cloud software too.
The Killer Feature

Needles spent five years bringing Needles 5 to market — and I'm among the first to see it. Head of Customer Education Bryan Billig starts by running through a few before-and-after screens comparing versions 4 and 5.
Needles adapts to your window size and is optimized for widescreen monitors, which is unusual for a Windows application. "The visual changes alone make Needles far more user-friendly and, by default, more productive," says Tiffany A. Cypress, paralegal at Sutherland & Brinster, PA. The new Needles mobile app for Android and iOS provides a similarly optimized native experience for on-the-go access.
Needles manages the entire client lifecycle from lead generation to intake to settlement. The company pioneered what it calls Case Types — a collection of custom fields, forms, and checklists for specific practice areas. In version 5, customization options no longer have limits. Checklists can now handle complex dependency rules with unlimited date triggers and case assignments.
Because special use cases exist in many law firms, Needles built a web-enabled API. Translation — you can integrate with virtually any product. The forthcoming Needles App Store will feature third-party integrations you can add with a few clicks.
"With a modern feature set that includes updated functionality, a clean user interface, texting, dashboards, and more, Needles 5 has both the tenured experience and the cutting-edge functionality to transform your practice," says Ryan Pakter, the company's Managing Director. "Needles 5 continues to position the company as an industry leader, with the most customizable and robust case management software on the market."
Other Notable Features

Needles includes hundreds of reports for monitoring the health of your firm. Use filters to focus on a subset of data, and customize the look and layout to reflect your law firm identity. Previously, you would need a technician to create your own reports, but the new Report Writer offers a wizard that anyone can use. You can even create reports comparing data over two or more time periods.
Many small touches in Needles reflect today's world. Most notably, a dashboard keeps you apprised of activity on your cases. Contacts have fields for social media accounts, and you can send and store text messages in addition to email. Notes within cases support rich text and hyperlinks, and the new Timeline view in the calendar lists your events side by side with others on your team to facilitate scheduling meetings.
What Else Should You Know?

"True, role-based security in Needles covers every corner of the firm," Billig tells me, wrapping up my demo. Applying a role to an employee restricts their access to information and what they can do with it (e.g., view, add, edit, and/or delete notes). You can host Needles at your firm, in Needles' data center, or with a third-party virtual desktop provider. Learn more about Needles 5.
How to Receive TL NewsWire
So many products, so little time. In each issue of TL NewsWire, you'll learn about five new products for the legal profession. Pressed for time? The newsletter's innovative articles enable lawyers and law office administrators to quickly understand the function of a product, and zero in on its most important features. The TL NewsWire newsletter is free so don't miss the next issue. Please subscribe now.