Today's issue of TL NewsWire covers a Microsoft Word add-in that scores your briefs and offers a spellchecker-like tool which suggests corrections and stylistic improvements (see article below). In addition, you'll find links to the previous 11 TL NewsWire features, including our coverage of cloud software for paperless deposition exhibits that gives you precise control over what the deponent sees and which can generate a hyperlinked report of all marked exhibits, billing and task management software designed to handle any financial model you devise, including the option to outsource drudgery such as mailing bills, and much more. Don't miss the next issue.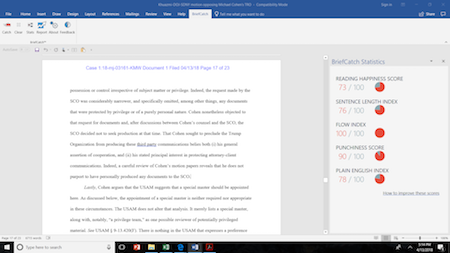 You may have the talent to write the perfect brief, but can you afford to spend that much time on it? Can your client? Why do all this work yourself when you can have one of the country's top legal writing experts edit your work? While you could hire this person, it'll cost you a lot less to use software that embodies his skills.
BriefCatch … in One Sentence

Launched recently, Legal Writing Pro's BriefCatch is a Microsoft Word add-in that scores your briefs, memos, and other documents, and suggests corrections and improvements.
The Killer Feature

Lawyer Ross Guberman built a successful legal writing consultancy, but he wanted to help more lawyers than time permitted. So he spent 18 months working with software developers to incorporate his legal writing knowledge into BriefCatch. Guberman also obtained input from 350 judges.
Much as Guberman himself might start a one-on-one session with an overall assessment, BriefCatch starts by scanning your document and assigning five different scores — Reading Happiness, Sentence Length, Flow, Punchiness, and Plain English. BriefCatch uses a scale of 100 for each score. As you edit your brief on your own or by accepting BriefCatch's suggestions, you can monitor the improvement in your scores.
BriefCatch also generates a Narrative Report — essentially a written report card that explains the pros and cons of your document and how BriefCatch will help you improve it.
"BriefCatch offers instant access to the skills I've long taught at top firms and courts, the tips in my bestselling book for advocates, and the insights I've gleaned from polling hundreds of judges and clients," says Guberman.
Other Notable Features

After gazing at your scores, it's time to get to work with BriefCatch's help. Guberman tells me that BriefCatch is more comprehensive than competing products. For example, BriefCatch identifies inconsistent serial comma use, language lawyers like but judges hate, unusually long sentences, commonly confused words (e.g., breech, statue), repetitive transitions, citation errors, and much more (see the entire list).
This level of detail gives the impression of a nuanced approach that belies the cudgel-like nature of most software. This is best exemplified by BriefCatch's ability to flag passive voice except for certain phrases that lawyers purposely use.
BriefCatch highlights all the potential problems in yellow and displays a spellchecker-like panel to the right. The panel explains why it flagged the word, phrase, or citation, and in most cases offers several alternatives instead of just one. You can accept the suggestion, ignore it, or ignore all such suggestions throughout the document. BriefCatch lists a running total of "changes" versus "ignores."
During my demo, BriefCatch caught a misuse of the word "belies" (unlike my correct use above) in a recent DOJ brief. BriefCatch suggested replacing it with "reveals" or "shows," either of which I can confirm would have corrected and clarified the sentence.
"This product is sublime," says Chris Bayh, a partner at Barnes & Thornburg. "Each time it gives me a couple dozen great notes, making a big difference in flow and punchiness. It also helps to make the next brief better the first time."
What Else Should You Know?

BriefCatch resides on Microsoft Word's Ribbon and runs locally, not in the cloud. It costs $240 annually per user (you can get a free trial before buying). Learn more about BriefCatch.
How to Receive TL NewsWire
So many products, so little time. In each issue of TL NewsWire, you'll learn about five new products for the legal profession. Pressed for time? The newsletter's innovative articles enable lawyers and law office administrators to quickly understand the function of a product, and zero in on its most important features. The TL NewsWire newsletter is free so don't miss the next issue. Please subscribe now.