Today's issue of TL NewsWire covers billing and task management software designed to handle any financial model you devise, including the option to outsource drudgery such as mailing bills (see article below). In addition, you'll find links to the previous 11 TL NewsWire features, including our coverage of a major practice management update, including a new Android and iOS app that automatically captures time for calls and email, a new marketing automation and client intake platform designed for law firms, including tools for email newsletters and electronic signatures, and much more. Don't miss the next issue.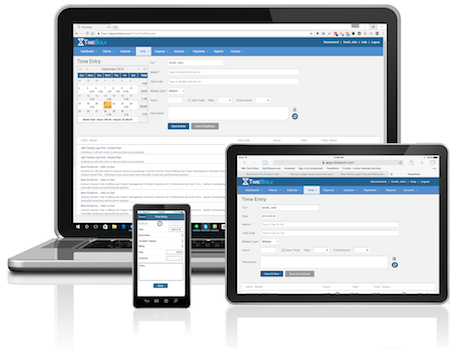 Law firms rarely charge a simple hourly rate. Instead, most have sophisticated billing needs. Also, a firm's billing model can change because of a new client, partner, practice area, etc. Ideally, you want billing software that can handle any financial model you devise.
TimeSolv Legal Billing … in One Sentence

TimeSolv is cloud billing software with extensive and flexible tools for time and expensive tracking, trust accounting, billing, and task management.
The Killer Feature

If you can think it, TimeSolv can track it. TimeSolv accommodates different billing rates based on the lawyer, task, matter, and other factors — even UTBMS task codes. Law firms often use split billing to incentivize behavior such as rainmaking. TimeSolv can split bills in any proportion, including granular controls such as splitting hours at different rates.
When creating a new matter, choose a default billing arrangement that you expect to use for most time entries. Timekeepers can override this default when necessary. For example, if a case goes to trial, you can use TimeSolv's Task Then Timekeeper setting to charge a premium trial rate.
"TimeSolv is hands down the best legal billing program available today," says Eva DeVincentis of O'Kelly & Ernst, LLC. "Not only is it easy to use, but if you find anything that you need it to do, just reach out to the staff at TimeSolv and before you know it, they've updated it with your request!"
Other Notable Features

TimeSolv greets you with the Time Entry dashboard. A calendar lists the time entered each day as well as totals for the month. To the right you can create time entries before or after the fact with tools such as a timer you can start and customizable abbreviations for entering lengthy descriptions (a cheat sheet lists all stored descriptions). Entering expenses works similarly.
Your support staff can use TimeSolv for free, which is helpful if some lawyers in your firm track time manually and send it to their assistant. Security controls can prevent support staff from doing anything other than entering time. These controls are also useful when working with contract lawyers.
When it's time to transform your firm's billed time into revenue, you can generate a list of Draft Bills by parameters such as client, date range, etc. You can view draft invoices and drill down to individual time entries to make adjustments. If you don't finish your review in one session, icons let you know which invoices you already reviewed. TimeSolv offers trust accounting so you can apply available trust funds during the review process.
You can use TimeSolv's Client Portal to deliver bills, and clients can pay via ACH or credit card thanks to integration with LawPay. You can also email and print bills, and submit bills to ebilling systems. TimeSolv can even print and mail your invoices via its add-on AutoMail service. For the ultimate in delegation, TimeSolv offers Outsourced Legal Billing in which a U.S.-based team preps your drafts bills, obtains your approval, and then sends the final versions, including to ebilling systems.
What Else Should You Know?

TimeSolv offers two-way sync with both the desktop and online versions of QuickBooks. A companion Windows and Mac app called TimeSync captures your time when offline. An extensive suite of task management and budgeting tools enable you to create workflow templates, automatically enter time upon task completion, and even offer flat fees. Learn more about TimeSolv Legal Billing.
How to Receive TL NewsWire
So many products, so little time. In each issue of TL NewsWire, you'll learn about five new products for the legal profession. Pressed for time? The newsletter's innovative articles enable lawyers and law office administrators to quickly understand the function of a product, and zero in on its most important features. The TL NewsWire newsletter is free so don't miss the next issue. Please subscribe now.