Today's issue of TL NewsWire covers a new marketing automation and client intake platform designed for law firms, including tools for email newsletters and electronic signatures (see article below). In addition, you'll find links to the previous 11 TL NewsWire features, including our coverage of a cloud application for paperless deposition exhibits with tools for focusing the deponent's attention and monitoring their actions, all-in-one practice management software with a variety of automation tools to save you time, and much more. Don't miss the next issue.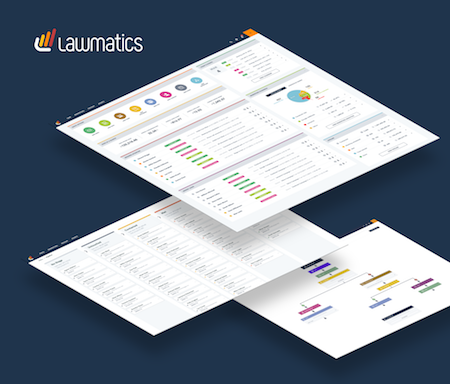 After leaving MyCase, co-founder Matt Spiegel noticed that while dozens of competing practice management products enabled law firms to manage their cases post-engagement, no products existed to assist law firms with attracting new clients, reengaging former clients, and closing the deal. Spiegel's new company, Lawmatics, focuses on this need.
Lawmatics … in One Sentence

Launched at ABA TECHSHOW 2018, Lawmatics is cloud marketing automation software specifically designed for the needs of law firms from prospect through intake.
The Killer Feature

California bankruptcy lawyer Mark Brenner describes Lawmatics as "everything that lawyers don't know about the marketing and business of law but need to know."
One surprise law firms encounter is the labor-intensive nature of marketing — publish a newsletter or client memo, manage a Google AdWords campaign, evaluate "potential new clients" or PNCs, onboard new clients, etc. Missed opportunities are common.
Lawmatics automates much of this work via its visual automated workflow tool that you can configure to send email, create events, add tasks, request a signature, and more based on various triggers.
For example, suppose you write an ebook related to your practice area to attract PNCs. Lawmatics can automatically generate a form that you can add to the page on your website offering the ebook. Next you set up an automated workflow in Lawmatics with this form as the trigger. Every PNC who fills out the form receives an email message with a link to the ebook. After a delay of your choosing (e.g., two days), Lawmatics emails the PNC to suggest scheduling a consultation. A consultation stops the workflow. PNCs who don't respond continue to be nurtured however you see fit.
Other Notable Features

Lawmatics features a dashboard with helpful statistics and tables such as your pipeline value, conversion rate, cost per client, leads that require attention, and more. According to Spiegel, you'll spend even more time on the Pipelines page. Here you'll see a Kanban-style visualization of your sales process, including the PNCs in each stage and their estimated value. Lawmatics' algorithm uses your historical data to estimate PNC value so it improves over time. PNCs move through the stages via automated workflows or manually by drag and drop.
You'll also spend a lot of time in Lawmatics' Insights — a custom reporting tool to analyze your marketing efforts. You can create various goals and measure actual performance against them. Lawmatics can generate a UTM — code you can add to any web page to track your marketing activities. For example, if you advertise the above ebook using both Facebook and Google, you can create a different UTM for each campaign and identify which one performs better.
Lawmatics eliminates the need to use a separate product such as MailChimp for your email marketing. Choose from several email templates, customize the design to match your brand identity, and automatically create email lists based on any criteria (e.g., clients, referral sources, PNCs, etc.).
Similarly, Lawmatics includes online signature technology, obviating products such as DocuSign. PNCs can sign engagement letters and become clients with a few mouse clicks.
What Else Should You Know?

The monthly price of Lawmatics depends on the number of contacts you store. The website offers a tool for calculating the price. The Lawmatics team helps you set everything up — custom fields, practice areas, pipeline stages, marketing channels, and intake process. Lawmatics charges a one-time fee for this onboarding. Learn more about Lawmatics.
How to Receive TL NewsWire
So many products, so little time. In each issue of TL NewsWire, you'll learn about five new products for the legal profession. Pressed for time? The newsletter's innovative articles enable lawyers and law office administrators to quickly understand the function of a product, and zero in on its most important features. The TL NewsWire newsletter is free so don't miss the next issue. Please subscribe now.