Today's issue of TL NewsWire covers practice management software that reduces the time required for administrative chores such as legal billing and filing client-related email (see article below). In addition, you'll find links to the previous 11 TL NewsWire features, including our coverage of a Microsoft Outlook add-in that predicts where to file your email and even lets you know when a colleague has beat you to it and already filed the same message, a cloud practice management system that has added financial and trust accounting to complement its billing features, obviating third-party software such as QuickBooks, and much more. Don't miss the next issue.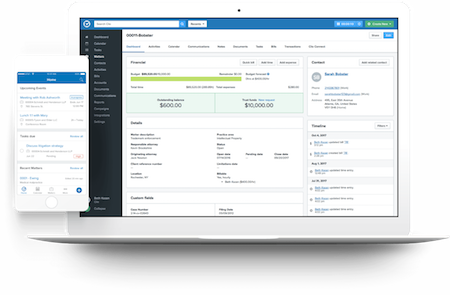 They say that time is money, but not all time is equal in the legal profession. The more non-billable time you and your staff spend on administrative tasks, the less time you can devote to billable client work. A practice management pioneer has partnered with law firms to eliminate these inefficiencies.
Clio … in One Sentence

Redesigned based on observing lawyers as they work, Clio is a cloud practice management platform with a new approach to billing, email management, and other law firm workflows.
The Killer Feature

Clio's product team spent time at over 60 law firms. They discovered that moving existing billing workflows into software offers only modest improvements. Therefore, one focus of the "new Clio experience" is getting bills out and getting bills paid in minutes rather than days.
For example, Batch Billing includes new customization options such as the ability to generate detailed or aggregate invoices, treat services and expenses differently, and select unique invoice themes to make your bills easier for clients to review. The Draft Bill page has a new layout for fast reviews without scrolling. Click the Edit button on a draft bill to change the address, add or revise descriptions, change rates, apply discounts, and even add time and expenses without leaving the invoice.
You can bulk approve and deliver invoices via email or to the Clio Connect secure client portal. Clio also streamlines payment handling, allowing you to approve a bill and apply funds held in trust to that bill in a single click. You can even apply a single payment to multiple invoices.
"We've taken nine years of learnings from working with the best law firms in the world and incorporated them into the largest, most important product release in Clio's history," says Jack Newton, CEO and Co-founder of Clio. "It is a re-platforming of Clio on a new set of web technologies making it an order of magnitude faster."
Other Notable Features

Also new is Clio's Outlook add-in. With one click, you can bulk file email messages and attachments in Clio after which these messages appear in searches and on the corresponding matter's dashboard. This integration also adds a timer to Outlook, enabling you to start the clock when you read or compose a billable email message, and save these time entries to a matter.
In addition to all the new features, Clio has also improved the user experience. The menu ribbon has moved to the side and is collapsible to increase visibility. The search box is larger, searches run 10 times faster, and search results include custom fields for more precision. The "Create New" menu and Timer are now omnipresent at the top for universal access from all screens. All records in Clio with no associated billing display an "Add Time" button to ensure that you don't overlook any billable events.
"Clio is slick, fast and intuitive," says lawyer Jason Morris, Owner of Round Table Law LLP. "The parts of the interface you need most often are always there with no scrolling."
What Else Should You Know?

Clio offers more than 90 third-party integrations — far more than any other product on the market. The new App Directory categorizes these integrations by function and practice area. Clio offers three plans — Starter ($39 per user per month), Boutique ($59), and Elite ($99). Marquee integrations such as Office 365 and QuickBooks require the Boutique or Elite plans. Learn more about Clio.
How to Receive TL NewsWire
So many products, so little time. In each issue of TL NewsWire, you'll learn about five new products for the legal profession. Pressed for time? The newsletter's innovative articles enable lawyers and law office administrators to quickly understand the function of a product, and zero in on its most important features. The TL NewsWire newsletter is free so don't miss the next issue. Please subscribe now.