Today's issue of TL NewsWire covers cloud billing software for small firms seeking a standalone solution without practice management bells and whistles (see article below). In addition, you'll find links to the previous 11 TL NewsWire features, including our coverage of a legal research service that helps you get up to speed in new area with checklists, interactive forms, practice notes, and a new way to mine SEC filings for agreements and clauses, and much more. Don't miss the next issue.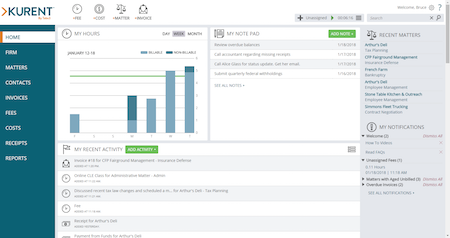 It's easy to get bogged down in practice management software with features you don't need. One company found that many small law firms only care about three core features — entering time, creating and sending bills, and getting paid. So, the company used its expertise to create a new product catering to these desires.
Kurent … in One Sentence

Tabs3 Software's Kurent is a cloud billing system with tools for managing hours billed, expenses, accounts receivable, receipts, and more.
The Killer Feature

"After more than 35 years of making Tabs3 billing software, we know that most solos and small firms just want a simple way to get their bills out," says President and CEO Dan Berlin. "Kurent is designed as an easy-to-use billing software without expensive practice management features that clutter the billing process, and it's made by us, the experts in legal billing."
Kurent's top navigation bar exemplifies this simplicity with always present buttons to enter a fee or cost, or create a new matter or invoice. From here, you can also search every record in Kurent.
Each major function in Kurent has a dashboard with charts showing Key Practice Indicators and one-click access to the underlying records. For example, the Home Dashboard lists your recent activity, recent matters, billable hours versus your target, and notifications about items that need your attention such as unbilled activities and overdue invoices. Click any item to drill down for more details or to make changes.
"Kurent is seamless and easy to use," says Jim Krzyminski of the Law Office of James M. Krzyminski, "Everybody's happy that we switched. It's all in the cloud, so we can safely access our files from anywhere."
Other Notable Features

Kurent's side navigation panel takes you to each dashboard - Home, Firm, Matters, Contacts, Invoices, Fees, Costs, Receipts, and Reports. The Firm Dashboard keeps you apprised of the financial state of your firm with charts showing top clients, accounts receivable, unbilled activities, cash receipts, new matters, and billing history.
As you would expect from the company behind Tabs3, Kurent supports custom rates for matter type or client, write-offs, LEDES-compliant eBills, contingency and flat fees, and batch invoicing. Choose from several invoice designs, customize invoice and fee details, and add your firm's logo.
Kurent further streamlines financial management through integrations with LawPay and QuickBooks Online. When clients use the payment portal to securely pay by credit card via LawPay, Kurent automatically updates their account when the payment posts. The QuickBooks integration keeps your accounting records in sync without having to retype anything.
Kurent's dashboards are designed to minimize your need for reports. When you do need a report, choose from accounts receivable, aged accounts, write-offs, unbilled activity, receipts, and many others. Use simple checkboxes to add columns and data to reports. You can export reports in CSV or Excel format.
What Else Should You Know?

Kurent costs $26 per user per month with an annual commitment ($29 if you pay monthly). If you switch from another product, the Kurent team can import your existing data at no charge. Kurent offers a 30-day trial with no credit card required. Learn more about Kurent.
How to Receive TL NewsWire
So many products, so little time. In each issue of TL NewsWire, you'll learn about five new products for the legal profession. Pressed for time? The newsletter's innovative articles enable lawyers and law office administrators to quickly understand the function of a product, and zero in on its most important features. The TL NewsWire newsletter is free so don't miss the next issue. Please subscribe now.