Today's issue of TL NewsWire covers a Windows application designed to handle your OCR, PDF, and document comparison needs in one product (see article below). In addition, you'll find links to the previous 11 TL NewsWire features, including our coverage of practice management software with a growing library of forms and templates, and built-in document assembly and e-filing, an Outlook add-in that addresses attachment headaches and reduces the risk of career-threatening errors, and much more. Don't miss the next issue.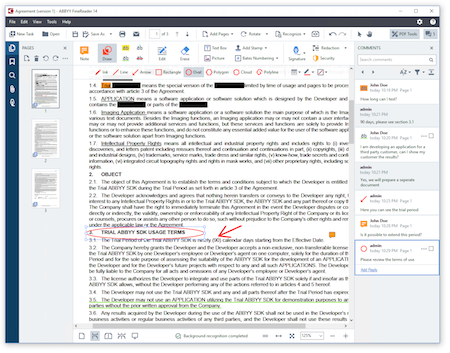 Every field has "professional" tools designed to improve overall performance. Golfers use "pro" clubs, musicians "pro" instruments, doctors "pro" diagnostic equipment, etc. Because lawyers create and review documents, many of which exist on paper, they need "pro" OCR, PDF, and document comparison tools — ideally in one product.
ABBYY FineReader 14 … in One Sentence

Launched recently, ABBYY FineReader 14 is all-in-one software for OCR, PDF, and document comparison.
The Killer Feature

A longtime leader in OCR — software that makes scans editable and searchable — ABBYY identified several inefficiencies in law firms. For example, because accurate OCR is essential for redlines, many firms use FineReader for OCR and then switch to a different product for the comparison. Also, up to 30% of PDF documents are effectively invisible because they don't undergo OCR when scanned.
The new version of FineReader addresses these problems by adding PDF and comparison tools alongside its popular OCR tools. "With the latest version of ABBYY FineReader, we help legal professionals easily manage and accomplish all kinds of daily tasks — editing, converting, commenting, and comparing documents, as well as making them searchable for easier access to information — using one, intuitive application," says Kristin Wagener, Director Business Unit Application Software.
Other Notable Features

FineReader prevents documents from falling through the cracks. The Hot Folder technology monitors folders connected to your scanners, performing OCR and naming documents in accordance with your rules. Also, Background Recognition automatically makes image PDF documents you open searchable.
FineReader includes what used to be sold separately as PDF Transformer, which means the PDF tools are mature. You can combine PDF files, reorganize pages, straighten and rotate pages, add bookmarks, apply stamps, and add or edit text. Annotation and commenting tools include the ability to accept/reject changes or reply. Other tools include digital signatures, redaction, and document security settings.
When accuracy is essential such as a document you want to edit, FineReader's OCR environment displays the original image on the left and the recognized document on the right with text in green, tables in blue, and images in red. Thanks to text recognition support for 192 languages plus dictionary support for 48 of them, the Verification tool enables you to review words FineReader is uncertain about and make corrections. When finished, you can export to Microsoft Word and other popular formats.
Rounding out the trio of technologies, FineReader's Comparator technology compares documents in any format (e.g., PDF to Word). The documents appear side by side with their differences highlighted. A hyperlinked index along the right side lists each change and its location. You can share a redline by exporting it as a PDF with the changes displayed as comments.
"ABBYY FineReader has enabled our department to achieve greater efficiencies in our day to day work, and helps us to better support our lawyers and their clients," says Tim Connop, IT Manager, Eversheds. "We have been impressed with the accuracy and reliability of this forward thinking product."
What Else Should You Know?

FineReader requires Windows 7 or later. The Corporate Edition ($399.99) includes all functionality and Hot Folder processing of 5,000 scanned pages per month. The Enterprise Edition ($599.99) doubles Hot Folder processing to 10,000 pages per month. The Standard Edition ($199.99) doesn't include the Hot Folder or redlining tools. ABBYY offers volume discounts. Learn more about ABBYY FineReader 14.
How to Receive TL NewsWire
So many products, so little time. In each issue of TL NewsWire, you'll learn about five new products for the legal profession. Pressed for time? The newsletter's innovative articles enable lawyers and law office administrators to quickly understand the function of a product, and zero in on its most important features. The TL NewsWire newsletter is free so don't miss the next issue. Please subscribe now.