Today's issue of TL NewsWire covers cloud practice management software with extensive data import tools (see article below). In addition, you'll find links to the previous 11 TL NewsWire features, including our coverage of a practice management app with a do-it-yourself QuickBooks integration, a tool for leveraging court dockets, an Outlook add-in that prevents email mishaps, a research service for medical malpractice practitioners, and much more. Don't miss the next issue.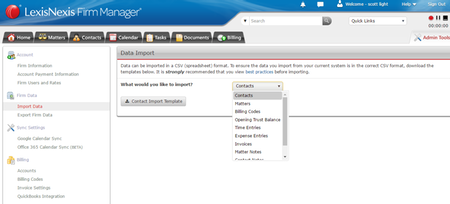 Many law firms that want to take their practice to the cloud feel trapped because of data migration hurdles. While it's relatively easy to export data from your existing software, most cloud apps have limited import tools.
LexisNexis Firm Manager … in One Sentence

LexisNexis Firm Manager is cloud practice management software that as of this week offers significantly expanded data import capabilities.
The Killer Feature

The words "data import" bring to mind a days-long process fraught with false starts and do-overs. By contrast, Firm Manager's new do-it-yourself data import tools can get you up and running in under an hour judging from the demo senior product manager Scott Light gave me.
The false starts of data migration stem from errors in source files. You then have to hunt down all these errors before you can import anything. Firm Manager takes a different approach. It imports all the clean data and notifies you of any errors. You can then save a CSV file that contains only the errors, which eliminates having to find them. Once you make corrections, you can import this remaining data.
Firm Manager distinguishes itself regarding the categories of data it can import — contacts, matters, billing codes, opening trust balances, time entries, expense entries, invoices, matter notes, contact notes, and tasks. Scott imported a data file for nearly each of these categories during the demo. This breadth gives you the opportunity to import data from multiple sources. If you can export to CSV format, Firm Manager can import it.
Calendars and documents have special data migration tools. For the former, Firm Manager integrates with Google Calendar and Office 365. For document management, Firm Manager can bulk import entire folders and nested folders with one click, and assign all the documents therein to a matter. You can also send email to a matter using a special email address.
"As firms upgrade their practice management systems, they want to bring their current and historical data with them," Director of Product Management Wes Gillette told me. "Firm Manager's new, improved data import process makes it easy for firms to get up and running quicker and easier than ever before."
Other Notable Features

Firm Manager has added a number of other features. The redesigned Home dashboard displays your calendar, tasks, recent activity, and unbilled time (Money Finder). Switching to the new Lawyer View provides insights into your billable targets, over-budget matters, and overdue tasks. Filters give your more granularity into this data.
Also new are customizable templates. Intake Templates ensure consistent handling of every new matter. Fields can consist of dates, currency, menus, and checkboxes in addition to text. Checklist Templates contain all the tasks associated with a matter type, including the person who should handle each task and its estimated billable time or budget. When you assign budgets to tasks, Firm Manager visually identifies tasks that took too long. You can alternatively assign a budget to an entire matter instead of its constituent tasks.
What Else Should You Know?

Two Firm Manager plans exist — Starter costs $29 per user per month while Essentials costs $44 per user per month. Both plans include the new data import tools. Essentials also includes the customizable templates, role-based permissions, QuickBooks integration, and reporting. Learn more about Firm Manager.
How to Receive TL NewsWire
So many products, so little time. In each issue of TL NewsWire, you'll learn about five new products for the legal profession. Pressed for time? The newsletter's innovative articles enable lawyers and law office administrators to quickly understand the function of a product, and zero in on its most important features. The TL NewsWire newsletter is free so don't miss the next issue. Please subscribe now.