Originally published on October 31, 2014 in our free TL Answers newsletter. Instead of reading TL Answers here, sign up now to receive future issues in realtime.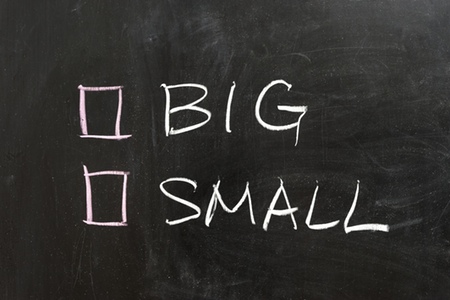 TechnoLawyer member Lance Like asks:
"Neil, I read one of your reviews from the past where you personally recommended the iPad mini over the full size iPad. Have you tried the newest iPad Air 2 (I know it was just released) and do you still prefer the mini?"
The massively improved iPad Air 2 combined with the minimally improved iPad mini 3 has made this question a little harder to answer. Many factors exist. I'll focus on three of the most important — weight, size, and chipset (power and speed) — and also discuss use cases.
My Bonafides
I spent some quality time with the iPad Air 2 and iPad mini 3 in the Apple store last weekend. More importantly, I currently use two cellular 2012 iPad minis (one at home and one at the office). I spend more time on the iPad mini than on my Mac or iPhone.
I use the iPad mini for work such as writing this article. Because I don't have TV service I also use my home iPad mini for fun — audiobooks, games, music, podcasts, reading, etc.
The iPad mini made me an iPad believer. I had an iPad 2 before the iPad mini, but that anchor didn't make me a believer. As you may have guessed, I consider weight the iPad's only significant weakness. That's why I still use the underpowered 2012 iPad mini, which weighs 312 grams. It remains the lightest iPad to date.
But I need to upgrade. App refreshes and lost Dropbox connections thanks to insufficient memory are wasting my valuable time. Also, we need a retina iPad for testing our newsletters and website.
Weight, Size, and Chipset
In 2012, the 10-inch iPad 4 weighed more than twice as much as the 8-inch iPad mini. This explains why Apple has lavished so much engineering effort on the 10-inch iPad. The iPad Air 2 (cellular) weighs 444 grams versus 341 grams for the iPad mini 3. Place an iPhone 5S on top of an iPad mini 3 and that's the weight of an iPad Air 2. The gap has narrowed considerably. However, when you hold your computer for hours versus having your desk hold it every gram matters.
Now let's talk size. The iPad mini immediately became my primary writing device in 2012. I don't use a Bluetooth keyboard. I use my thumbs. If you have become a skilled thumb typist, you will find no better thumb typing experience than the iPad mini in portrait orientation. On the flip side, the 10-inch iPad offers a better reading experience than the 8-inch iPad mini for the bread and butter of law practice — letter-size documents, email, and websites.
Finally, the new iPad Air 2 blows the iPad mini 3 and every other tablet for that matter out of the water thanks to its A8X system-on-chip and 2 GB of memory. But the A7 chip in the iPad mini 3 is no slouch, and its 1 GB of memory will prevent app refreshes for typical multitasking such as switching among three apps.
Tabtec has crowned the iPad Air 2 and iPad mini 3 the two fastest tablets on the market.
This PocketGamer article will give you a sense of how far you can take each device before you experience an app refresh.
My Buying Advice
Below you'll find some common use cases with an advantage given to one of the new iPads.
1. You will hold the iPad for many hours. Advantage iPad mini 3, especially if you will spend much of this time lying down.
2. You will primarily use the iPad for reviewing documents with minimal typing. Advantage iPad Air 2.
3. You will type a lot. Advantage iPad Air 2 if you're a touch typist and/or plan to buy a keyboard case. Advantage iPad mini 3 if you're a thumb typist.
4. You will use the iPad for giving trial presentations, including demonstrative evidence and video clips. Advantage iPad Air 2 — not just for its larger screen but also for its power.
5. You will carry the iPad with you a lot. Advantage iPad mini 3, but it's no longer the slam dunk it used to be.
6. You will primarily use the iPad for entertainment. Advantage iPad mini 3 for ebooks. Advantage iPad Air 2 for email, games, videos, and websites. Both are equally good for audiobooks, music, and podcasts.
As you can see, I can't declare a winner because it depends on your use case. For example, if your primary use case is to read ebooks in bed you're probably better off with the iPad mini 3. If you want to surf the web in bed, the iPad Air 2's larger display may trump its weight.
Six Buying Tips for Both iPads
1. Apple has a no-questions-asked 14-day return policy so you could buy both and return one. Apple is strict about the 14 days so mark your calendar.
2. Apple still sells the iPad Air, iPad mini 2, and even the original 2012 iPad mini. The only old model worth considering is the iPad mini 2, which is identical to the iPad mini 3 except that it lacks Touch ID and 64 and 128 GB storage options.
3. Don't buy a used iPad. They receive a lot more abuse than even a laptop. If you're on a tight budget, buy a refurbished iPad from Apple instead.
4. Don't buy an iPad with 16 GB of storage. My iPad minis have 32 GB and are bursting at the seams. Go for 64 GB or even 128 GB if you can afford it. Last year's models now max out at 32 GB so that's another reason to avoid them.
5. I advocate buying the cellular version so that you can use your iPad as a 10-hour hotspot if your Internet connection goes out. (If you want a carrier agnostic Apple SIM, you must buy the iPad from Apple.)
6. I mentioned this recently but it bears repeating. Set up your iPad for visual alerts only (no sound). The iPad then becomes a better device than your iPhone for listening to audiobooks, music, and podcasts. You still know what's happening, but need not worry about telephone calls and other alerts spoiling your aural experience. With iOS 8, you can receive notifications of telephone calls on your iPad and answer them.
What I'm Buying
I mentioned above that we need retina iPads for testing since so many of you use them.
Therefore, I'm replacing my 2012 iPad minis with the cellular 128 GB iPad mini 3 (one silver and one gold so I can tell them apart). If I had to spend my own money, I'd buy one cellular 128 GB iPad mini 3 in silver. I prefer the white face for working with documents because it looks more like paper and is less reflective in an office environment with ceiling lights.
Neil J. Squillante created TechnoLawyer and serves as its publisher. His areas of expertise include advertising and publishing technologies, information architecture, persuasive writing techniques, and statistical analysis and research. Before founding TechnoLawyer, Neil practiced commercial, intellectual property, and securities litigation at Willkie Farr & Gallagher in New York City. Neil received his JD from UCLA and served as a managing editor of the UCLA Law Review. He received his BA in Economics from Duke University.
How to Receive TL Answers
Do you believe in the wisdom of crowds? In TL Answers, TechnoLawyer members answer legal technology and practice management questions submitted by their peers. This newsletter's popularity stems from the relevance of the questions and answers to virtually everyone in the legal profession. The TL Answers newsletter is free so don't miss the next issue. Please subscribe now.