Originally published on August 10, 2014 in our free TL Research newsletter. Instead of reading TL Research here after the fact, sign up now to receive future issues in realtime.
Don't look now but your legal career may soon come crashing down thanks to disruptive innovation. So say some pundits who don't have a good grasp of disruption theory. In this issue of TL Research, you'll learn about all three types of disruption — low end, new market, and professional services — and why none of them threaten lawyers like you. That said, other more mundane risks exist that you must address just like every other business.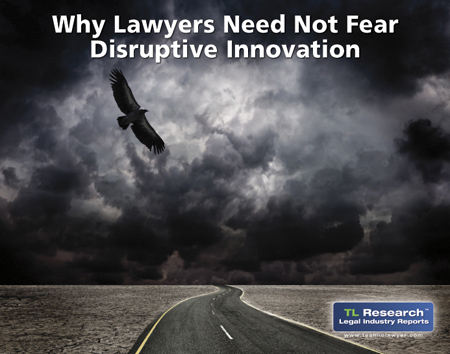 Some pundits have tried to put the fear of God into lawyers like you about disruptive innovation. They claim your ability to practice law is at risk. If you want to keep your BMW, you can always become an Uber driver. Just kidding. These pundits are dead wrong. Your law firm may struggle and even die, but the coroner won't list disruption as the cause of death.
Disruption Happens
Disruptive innovation is real. It happens all the time. Harvard Business School professor Clayton Christensen pioneered the theory in his book, The Innovator's Dilemma.
However, pundits who predict doom and gloom for lawyers don't understand disruption theory. For example, they often equate disruption with going out of business. Christensen recently noted that disruption "is not a theory about survivability."
Christensen cites the example of U.S. Steel. So-called mini mills such as those pioneered by Nucor drove U.S. Steel out of several markets. However, U.S. Steel didn't go out of business. Instead, it moved upmarket, currently producing steel for high-end applications such as airplane wings and car bodies.
Three types of disruption exist. Below I'll explain why none of them apply to lawyers like you.
1. Low End Disruption
The above U.S. Steel example exemplifies low end disruption. A competitor like Nucor invents a superior process or technology that enables it to offer an equivalent or "good-enough" product at a lower price.
Pundits often point to LegalZoom as an example of low end disruption in the legal industry. However, do-it-yourself legal products such as those by Nolo have existed for decades. LegalZoom's superior efficiency and technology may threaten old school companies like Nolo, but not you.
If you're like most lawyers, you don't perform legal work for people and businesses with simple needs. On the contrary, you perform moderately to very complex legal work and have thus served the mid-to-high end of the legal market from the very beginning. Unlike U.S. Steel, you don't have any low end work at risk.
In fairness, some lawyers handle simple matters and produce work product no better than that which LegalZoom and others such as Trademarkia sell for a fraction of the price. These lawyers are at risk — maybe.
Lawyers enjoy a powerful bulwark against low end disruption — client satisfaction.
Ben Thompson of Stratechery makes a strong case that low end disruption applies only in business markets that behave in an economically rational manner (e.g., a large law firm CIO who buys 800 PCs), but not in consumer markets (e.g., a lawyer who buys a PC for his home). Buyers of legal services behave more like consumers because relationships with lawyers are deeply personal and because results matter more than money (within reason).
2. New Market Disruption
This insidious form of disruption occurs when a product initially serves non-consumers in a category, but eventually expands to attract consumers of incumbent products. Because this form of disruption is so elusive, it's hard to spot until it's too late.
For example, Uber and Lyft are disrupting the taxi industry by offering a better experience (cleaner cars, easier payment, and faster service) thanks to their app and all the fancy logistics behind it. This new market disruption seems clear cut. However, these companies have bigger goals. They want to disrupt car ownership. Why get stuck as the designated driver when you and your friends can use Uber instead? Why get dressed when Uber can deliver your take-out order? Why worry about finding a parking spot when Uber can take you to the courthouse? GM doesn't realize this yet.
Here lawyers have another bulwark on top of client satisfaction — protective regulations such as rules against non-lawyer ownership of law firms and the unauthorized practice of law. This explains, for example, why investment banks can't offer legal services and cut out law firms from their deals.
3. Professional Services Disruption
A subset of those above, this form of disruption applies to professionals like lawyers. Pundits point to machine learning technologies such as predictive coding, and to cheap labor via offshore outsourcing or Axiom's famed "insourcing."
Assuming again that you're an experienced lawyer serving the mid-to-high end of the market, predictive coding is not a threat. It will eliminate offshore and onsite contract lawyers before it impacts your job. You would likely welcome receiving a set of relevant documents from your corporate clients.
If you're ambitious, you can recruit someone like Diane Kilcoyne to start an ediscovery practice area at your firm with all the latest software. You can even develop your own software to further set your law firm apart.
But what about Axiom? Surely it's disruptive. It says so in the title of this article.
Successful yes. Disruptive no. Thanks to the above-noted state regulations, most lawyers will never lose business to Axiom. As Richard Granat explains, hiring Axiom is riskier than hiring a law firm. Accordingly, only general counsel of large companies tend to hire Axiom.
Granat thinks Axiom poses a risk to large firms, but Axiom seems more like a way for general counsel to limit the headcount in their legal departments. In-house lawyers are costly thanks to salary inflation, generous benefits, and payroll taxes. Also, you can easily scale up and down with Axiom as needed. You can't hire employees one month and fire them the next.
Finally, there's legal artificial intelligence. This will happen. It will fit all three types of disruption. But not in your lifetime. End of story.
Don't Get Scared but Don't Become Complacent
Disruption won't kill your law firm, but poor business management, and an underinvestment in marketing and technology will. Honestly assess your weaknesses and shore them up. Hire a so-called lawyer coach if needed such as Bruce MacEwen in the large firm world and Allison Shields in the small firm world. Invest in document automation technology and test flat fees. But don't pay any attention to disruption scaremongers until the legal profession loses its regulatory protections or Siri tells you she's leaving to start her own law firm. Even then, you'll still have client satisfaction in your back pocket.
Neil J. Squillante created TechnoLawyer and serves as its publisher. His areas of expertise include advertising and publishing technologies, information architecture, persuasive writing techniques, and statistical analysis and research. Before founding TechnoLawyer, Neil practiced commercial, intellectual property, and securities litigation at Willkie Farr & Gallagher in New York City. Neil received his JD from UCLA and served as a managing editor of the UCLA Law Review. He received his BA in Economics from Duke University.
How to Receive TL Research
Our flagship newsletter offers in-depth buyer's guides and other helpful research reports for everyone in the legal profession. Written in plain English by leading experts, these reports combine exhaustive research with sound statistical techniques to provide you with reliable analysis, data, and insights. Just as importantly, TL Research reports often include benchmarks, charts, and other visuals that bring the information to life. TechnoLawyer members regularly use TL Research reports at strategic planning meetings. The TL Research newsletter is free so don't miss the next issue. Please subscribe now.