Today's issue of TL NewsWire covers a cloud document management system that works from within Microsoft Office (see article below), a video hosting service, deposition transcript management and video editing software, and an iPad note-taking app. Don't miss the next issue.
CLOUD DOCUMENT MANAGEMENT INSIDE MICROSOFT OFFICE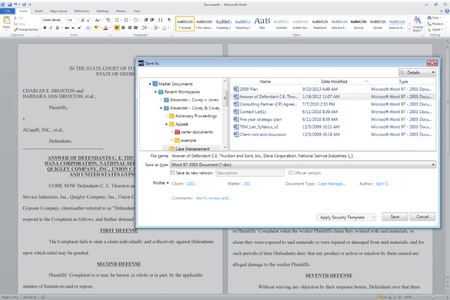 Lawyers feel conflicted about document management systems. On the one hand, they recognize the advantages such as client/matter organization, document profiles, versioning, and the elimination of lost documents. Furthermore, cloud document management systems facilitate access to documents from anywhere. On the other hand, lawyers dislike having to check documents in and out.
NetDocuments ndOffice … in One Sentence

Launched this week, NetDocuments ndOffice (ndOffice) is a free add-on that integrates the NetDocuments cloud document management system into Microsoft Office.
The Killer Feature

The company refers to ndOffice as an "invisible" document management system because it eliminates the need to check Microsoft Office documents in and out of NetDocuments.
Instead, ndOffice embeds all of NetDocuments' core functionality into Microsoft Office. This means you start and finish your work within Office, not in NetDocuments. However, all Microsoft Office documents reside in NetDocuments rather than on your local hard drive, making them available on all your devices and to all your colleagues.
For example, when you save a new document, Word's regular Save function saves your document into NetDocuments. The Save As function automatically creates a new version of a document in NetDocuments so that you can preserve prior versions. Behind the scenes, ndOffice automatically checks documents into and out of NetDocuments with an audit trail as you open and close them respectively.
Other Notable Features

ndOffice adds a number of functions to Microsoft Office's Ribbon. These enable you to create document templates, fill in document profiles, search for documents, access matter folders and client workspaces, save email messages and attachments from Outlook, and more.
"ndOffice brings document management inside Word, Excel, and PowerPoint to offer end users an integrated and seamless experience," NetDocuments VP of Marketing and Product Management Leonard Johnson told us. "With no more switching back and forth between these applications and a web browser, users can now manage versions, apply profile and security templates, open recent documents, and perform global searches from within Microsoft Office. ndOffice's ability to invisibly save documents to our multi-user, multi-tenant, secure cloud service is an unprecedented convenience."
What Else Should You Know?

ndOffice works with Microsoft Office 2010 and 2013 regardless of whether you licensed it the old fashioned way or subscribe via Office 365. ndOffice is available free of charge to all NetDocuments customers. NetDocuments costs $20, $30, or $38 per user per month for the Basic, Professional, and Professional+ plans respectively. Learn more about NetDocuments ndOffice.
How to Receive TL NewsWire
So many products, so little time. In each issue of TL NewsWire, you'll learn about five new products for the legal profession. Pressed for time? The newsletter's innovative articles enable lawyers and law office administrators to quickly understand the function of a product, and zero in on its most important features. The TL NewsWire newsletter is free so don't miss the next issue. Please subscribe now.