Originally published on August 30 in our free SmallLaw newsletter. Instead of reading SmallLaw here after the fact, sign up now to receive future issues in realtime.
You've heard stories about hapless iPhone owners who thought their data was backed up despite never syncing their iPhone with their computer or iCloud. Before you snicker, we bet you haven't tapped the full potential of your iOS devices. In this issue of SmallLaw, lawyer and iOS expert Jeff Richardson provides little-known but powerful tips for Apple's Contacts, Reminders, and Notes apps. He also explains how you can use your iPhone to create and manage your usernames and passwords, and enter them into any web browser. Also, don't miss the SmallLaw Pick of the Week (newsletter only) for a buyer's guide to the best iPad keyboards.
IPHONE AND IPAD INFORMATION MANAGEMENT TIPS
Each day of law practice and life inundates us with small bits of information that we need to recall for later reference, but before you can remember one tidbit the next item shows up, followed by another one. Pick up your laundry tomorrow night. Buy travel-sized shaving cream at the pharmacy. Remember this phone number, this password, this person's name, etc. The information never seems to end.
Fortunately, your iPhone is always nearby, and excels at remembering all of the nitty, gritty details so that you don't need to burden yourself with memorization. In this issue of SmallLaw, I'll discuss apps and strategies to help you control this flood of information.
Information About People
You probably use the Contacts app to store a person's name, company name, email address, phone number, and other basic information. But if you tap the Edit button when viewing a contact and then choose Add Field, you will set that you can add many other useful fields.
For example, you can add a Phonetic First or Last Name to remember how to pronounce a person's name and avoid future embarrassment. You can also create a blank notes field with any kind of useful information about a person. I use the notes field to jot down the name and birth dates of children so that when I see someone again, I can remember that his son is "John" and is six years old. You might want to note interests, hobbies, favorite sports teams, etc.
Another field enables you to add a birthday to a contact, after which an entry will appear in Calendar with a small gift icon to remind you. Better yet, the powerful app Fantastical (which I use far more often than the built-in Calendar app) will calculate the math and display that it's Joe's 44th birthday.
The Reminders App and Siri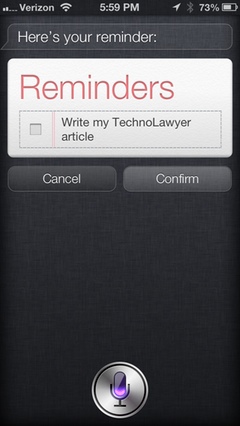 The iPhone's built-in Reminders app can remind you about specific tasks at a certain time or place. Launch the Reminders app, tap an empty line, jot down a few words about your task (like "Pick up hot dogs for Labor Day barbecue"), and then tap the arrow at the end of the line to remind you at a specific time (Saturday at 5 pm) or at a specific place (such as when you leave your office or when you arrive at a shopping center).
That's a great help, but what makes the Reminders app incredibly useful is the ability to use Siri to create reminders. You can dictate a reminder far faster than you can create one with your fingers. Activate Siri and simply talk to your iPhone. Say "Remind me to call Steve when I get to the office." Siri will ask which Steve, showing you a list of all of your contacts named Steve. Then whenever you next arrive at your office, Siri will remind you to place the call.
You can also tell Siri to "Remind me to go to the bank when I leave home" or "Remind me to start preparing for the Smith meeting at 2:30 on Thursday." All of this works a lot better than jotting down a reminder on cocktail napkin that you forget in your pants pocket, only to be seen again in a different form after going through the washing machine.
You can create different lists in the Reminders app. I recommend that you create one called "Grocery List." That way, in the future, you can simply tell Siri "Add milk to my grocery list." When you get to the store, look at the Grocery List in Reminders to see everything you wanted to remember to buy, including the items you haven't thought about since last Tuesday. You can also create date-specific lists. Tap on a specific date on the calendar in the Reminders app (e.g., Labor Day), and then add your tasks for that day.
All of the above also works on the iPad 3 or later and the iPad mini. In fact, if you have both an iPad and an iPhone, Reminders can keep your two devices in sync via Apple's free iCloud service.
The Notes App and Siri
The built-in Notes app is a simple but effective place to jot down quick notes on any topic that you can imagine. Like Reminders, it's much more powerful when you use Siri. Tell your iPhone or iPad, "Note that Suzie is arriving on Delta flight 456" and Siri will automatically create a new item in the Notes app with that text. Then you no longer need to worry about memorizing that flight number.
Usernames and Passwords
We all struggle to remember the endless usernames and passwords associated with our increasingly digital lives. A horrible "solution" is to use the same password everywhere; you don't want a hacker to gain access to one of your accounts and suddenly have access to all of them.
Rather than place sensitive passwords in the Notes app that any who picks up your iPhone can access, I recommend purchasing one of the many dedicated password apps such as LastPass, mSecure, or my favorite 1Password.
1Password remembers all of my passwords, includes a built-in web browser that can access a web site and enter my username and password automatically, and securely syncs with the web browsers on both my PC and Mac so that with a simple keystroke I can enter (or save) a password for every web site on any computer, iPad, and iPhone of mine. The app can also create complex, secure passwords that are impossible to guess and impervious to so-called dictionary attacks because they don't consist of English words. However, you never have to worry about memorizing or typing these long passwords because 1Password software handles that for you.
1Password can store more than just passwords. It has forms for remembering social security numbers, credit cards, software licenses, etc. I also love the secure notes feature because it provides a place to jot down private information protected under the lock and key of the 1Password app.
Jeff Richardson practices law in New Orleans and publishes iPhone J.D., the oldest and largest website for attorneys who use the iPhone and iPad.
How to Receive SmallLaw
Small firm, big dreams. Written by practicing lawyers who manage successful small firms and legal technology and practice management experts who have achieved rock star status, this newsletter provides practical advice on management, marketing, and technology issues in small law firms, as well as comprehensive legal product reviews with accompanying TechnoScore ratings. The SmallLaw newsletter is free so don't miss the next issue. Please subscribe now.