Originally published in our free TL NewsWire newsletter. Instead of reading TL NewsWire here, sign up now to receive future issues via email.
EQUALS IN NEARLY EVERY RESPECT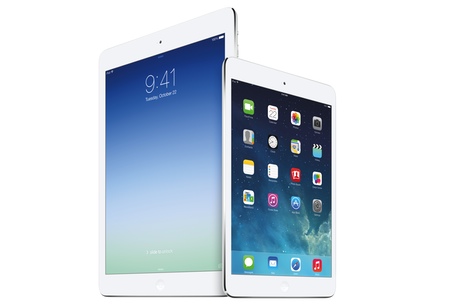 Is there an iPad for everyone? Well, some lawyers prefer the fourth generation iPad because of its retina display and fast A6X CPU. But some think it's too pricy. These thriftier lawyers gravitate to the less expensive iPad 2. Others think it's too heavy. This contingent prefers the iPad mini thanks to its small size and light weight. And then there's a group of lawyers who prefer tablets running Android or Windows 8.
iPad Air and iPad mini With Retina Display … in One Sentence

Announced today, Apple's iPad Air is a 9.7-inch tablet whereas its iPad mini With Retina Display is a 7.9-inch tablet.
The Killer Feature

The iPad Air weighs one pound or 469 grams (the cellular model weighs 1.05 pounds or 478 grams). It's 0.29 inches or 7.5 mm thick. And of course it has a retina display (2048 x 1536 pixels at 264 pixels per inch).
Meanwhile, the iPad mini now has a retina display (2048 x 1536 pixels at 326 pixels per inch); its weight has increased a bit to 0.73 pounds or 331 grams (the cellular model weighs 0.75 pounds or 341 grams). It has the same thickness as the iPad Air.
Most notably, both iPads use Apple's new 64-bit A7 CPU (the same CPU used in the iPhone 5s).
By powering both iPads with the same CPU and outfitting them with a retina display, Apple is sending a clear message to lawyers and the rest of the enterprise world — choose between the two new iPads solely on size and price (and to a lesser extent weight) since they both run apps at the same speed and resolution (the iPad mini's smaller display is theoretically crisper because of its higher pixel density, but it's unlikely you'll notice a difference).
In fact, because the display size on each remains the same respectively and the difference in weight has narrowed, your preference may simply boil down to whether you prefer traditional touch typing in landscape orientation (iPad Air has the edge) or thumb typing in portrait orientation (iPad mini has the edge).
Other Notable Features

Let's delve into that other important factor. The WiFi-only iPad Air costs $499 (16 GB), $599 (32 GB), $699 (64 GB), or $799 (128 GB). The WiFi-only iPad mini starts at $399 for 16 GB. Its price also increases in $100 increments — and yes, there's a 128 GB version. Add $129 to each of these prices for the models with LTE cellular data connectivity, available on all four major carriers (AT&T, Sprint, T-Mobile, and Verizon).
The two iPads don't only share the same CPU. All their other specifications are likewise identical — rear 5 megapixel iSight camera capable of 1080p video, front 1.2 megapixel FaceTime HD camera capable of 720p video, dual microphones, stereo speakers, 9-10 hours of battery life, Siri, lightning connector, etc.
Color choices for both iPads consist of a silver back and white front or a space gray back and black front. They have chamfered edges like the iPhone 5s, but there's no gold color option.
In addition to shipping with iOS 7, both new iPads include Apple's iWork productivity suite — Pages, Numbers, and Keynote. Updated today, these apps now use the same file format respectively across their iOS, OS X, and web versions. The most notable new feature is real-time collaborative editing (stay tuned for a more detailed report and review). The new iPads also include Apple's iLife suite of apps — iPhoto, iMovie, and Garage Band.
What Else Should You Know?

You can get your fingers on an iPad Air on November 1 and the iPad mini sometime in November (translation — expect shortages). Apple will continue selling the 16 GB iPad 2 (2011) for $399 ($529 for the 3G cellular model) and the 16 GB iPad mini (2012) for $299 ($429 for the LTE cellular model). These old, non-retina models run on the now ancient A5 CPU. Learn more about iPad Air and iPad mini With Retina Display.
How to Receive TL NewsWire
So many products, so little time. In each issue of TL NewsWire, you'll learn about five new products for the legal profession. Pressed for time? The newsletter's innovative articles enable lawyers and law office administrators to quickly understand the function of a product, and zero in on its most important features. The TL NewsWire newsletter is free so don't miss the next issue. Please subscribe now.