Today's issue of TL NewsWire covers an iOS app for litigation case management (see article below), a new iPad stylus, an iPad note-taking app, software for encrypting USB flash drives, and an online service for creating electronic document binders. Don't miss the next issue.
PUT YOUR CLIENTS AND THEIR CASES IN YOUR POCKET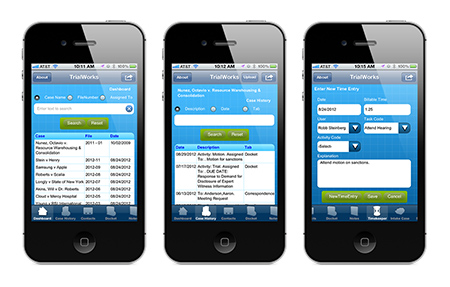 Litigators have always led a mobile lifestyle. Trials don't occur in the conference room in your office after all. Even today, some litigators still walk into court toting paper documents in a litigation briefcase on wheels. But there's no need to risk a muscle strain as you climb the courthouse steps given the onward march of mobile technology.
TrialWorks Mobile App … in One Sentence
Launched earlier this month, Lawex's TrialWorks Mobile App, which works in conjunction with the company's TrialWorks case management software, enables you to access your entire case file on your iPad and/or iPhone.
The Killer Feature
Most practice management systems understandably try to appeal to all practice areas. By contrast, TrialWorks focuses on litigation. Thus, in addition to organizing information like contacts and calendar events by matter, it also accommodates litigation-specific information. For example, it tracks dates such as incidents, statutes of limitations, and trials. It also stores medical records and contains a settlement calculator.
The TrialWorks Mobile App enables you to take this information with you on your iOS device. Most notable is the Case History function as it contains all case data in chronological order. Through Case History, you can access any calendar item, document, note, and more. Additionally, you can email documents such as a court opinion or pleadings directly from the app to the judge, opposing counsel, etc.
"The TrialWorks Mobile App is a game changer," Lawex president Robb Steinberg told us. "The ability to review the entire case history, including documents, notes, deadlines, contacts, and email, from your iPad or iPhone, enables attorneys to be productive anywhere anytime."
Other Notable Features
When you launch the TrialWorks Mobile App, you first see the Dashboard. You can quickly select a recently-viewed case or find and select a case you have not previously viewed in the app. A toolbar enables you to access other features of the app such as Contacts, Docket, Notes, and Timekeeper.
When you pull up a contact, you can tap a telephone number to place a call. The Docket enables you to review court dates and tasks. Notes store information related to a matter added by you and your colleagues. With Timekeeper, you can enter time on the go as it occurs.
All the features in the TrialWorks Mobile App are bidirectional, which means you can both access existing information as well as enter new information (calendar events, new client intakes, expenses, notes, tasks, time, etc.). The app securely syncs with TrialWorks in your office when your iPad or iPhone has access to the Internet.
What Else Should You Know?
The TrialWorks Mobile App is free for TrialWorks users who have an active maintenance agreement. It features its own login screen for added security. Learn more about the TrialWorks Mobile App.
How to Receive TL NewsWire
So many products, so little time. In each issue of TL NewsWire, you'll learn about five new products for the legal profession. Pressed for time? The newsletter's innovative articles enable lawyers and law office administrators to quickly understand the function of a product, and zero in on its most important features. The TL NewsWire newsletter is free so don't miss the next issue. Please subscribe now.