Originally published in our free SmallLaw newsletter. Instead of reading SmallLaw here after the fact, sign up now to receive future issues in realtime.
Many authors stretch an idea best suited for an article into a book. In putting together our first ever SmallLaw Summer Reading List, we searched for quality books with an actual book's worth of helpful ideas and tips. Also, we asked each author to explain why their book is worth your valuable time. Thus, you'll find our recommended books and links as well as each author's response to our question. To ensure that our SmallLaw Summer Reading List has something for everyone in the solo and small firm world, it spans two issues of SmallLaw. Part 2 today features books on law firm management and legal writing. Also, don't miss the SmallLaw Pick of the Week (subscribers only) for a look at personal injury law firms with their own smartphone app.
THE SMALLLAW 2012 SUMMER READING LIST PART 2: LAW FIRM MANAGEMENT AND LEGAL WRITING BOOKS WITH MORE THAN ARTICLE'S WORTH OF GOOD STUFF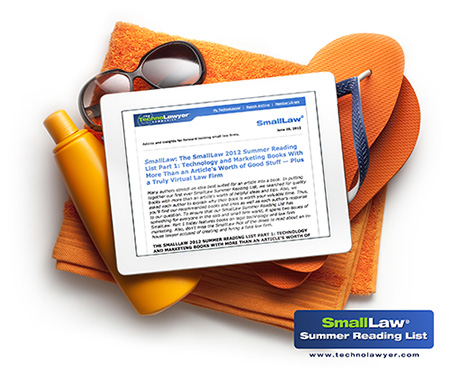 As we noted in Part 1 earlier this week, publishing a book is considered prestigious even though articles tend to have a much larger readership. Thus, many authors stretch an article's worth of material into a book.
Our SmallLaw 2012 Summer Reading List sidesteps these empty vessels to bring you books with an actual book's worth of good stuff. We also tried to find relatively concise books so that you could read more than one. And we asked each author to answer this question:
"The obstacle books face is not their cost but the investment of time they require. What will those who work in small law firms learn from your book that they cannot learn from an article or some other shorter resource?"
Part 1 featured legal technology and law firm marketing books (there's a link at the end if you missed it). Part 2 below features books on law firm management and legal writing, including each author's answer to our question.
If you read any of these books, please reply to this issue of SmallLaw to post a review, which we'll publish in Fat Friday.
Lewis Kinard, Start and Grow Your Limited Scope Practice: How to Make Money Serving the "Do It Yourself" Client (2012)
At approximately 120 pages (plus an appendix), my book is a condensed package of practical information unlike any other similar resource on the topic of starting and growing a limited scope representation law practice.
In addition to fundamentals for first-time solos, I include unique suggestions and proven examples of ways to reach and serve the huge number of potential clients who are willing and able to pay for some portion of the representation they need and want.
Start and Grow Your Limited Scope Practice brings together in one book the fundamentals of succeeding in small and solo practice, practical pointers for marketing legal services to consumers in the digital age, essential ethical guidance, several key forms (one of which was created especially for this book) and a Seven Step Plan for Success with material that unavailable anywhere else.
I have successfully used many of the ideas myself, and continue to expand on the concepts at my Limited Scope practice blawg. Having all of this information in one concise resource is a time saver for busy legal professionals.
Kindle Version ($9.99)
Kenney F. Hegland & Paul D. Bennett, a Short and Happy Guide to Being a Lawyer (2012)
Why read a series of articles when you can read a fast-paced, fun book and learn something useful? And, just maybe, learn something unexpected. You can't get much shorter than this.
In 117 pages, this book covers basic lawyering skills as well as chapters on solving problems, coping with faulty memories, and telling compelling stories. It's entertaining, insightful, and doesn't pretend to give all the answers. Instead we explain the big choices — complete with musings, poems, and bad jokes. You might just read it twice and still have time for lunch.
Print Version ($15)
Web Version ($11)
Edward Poll, Secrets of the Business of Law (2d Edition 2012)
Most "self-help" books presume that the reader will follow their steps, one by one. Many readers will buy the book, with good intentions, but get side-tracked and fail to finish the book. Also, many books require you to start from the beginning and progress to the end.
In Secrets of the Business of Law, we address a number of different issues with the expectation that the reader will first look at those chapters that contain issues of concern to them. The new second edition is significantly improved and reflects our current environment. This work addresses the simple question: How can you operate your law firm better to more deliver legal services more efficiently, better serve your clients, and become more profitable?
Kindle Version ($39)
Print Version ($49)
Carolyn Elefant, Solo by Choice 2011-2012: How to Be the Lawyer You Always Wanted to Be (2011)
Solo by Choice isn't a one time read, but an ongoing resource for lawyers who want to go solo or grow solo. Although multiple articles and blogs discuss solo practice (including my own), Solo by Choice aggregates the information all in one place — plus it's current and well researched.
Print Version ($33.77)
Marie P. Buckley, the Lawyer's Essential Guide to Writing: Proven Tools and Techniques (2011)
This is a book about writing — plain English, powerful writing — not just a book about "legal writing." The book builds on three straightforward rules:
Use plain English. Lead from the top. Explain what to do next.
Then it shows how to apply these rules to all forms of written communication. It is short, entertaining and easy to use.
The techniques are practical and concrete, and even include word processing tips. Each chapter covers one, discrete topic, and every paragraph begins with a heading that summarizes the writing rule discussed in that paragraph, so the reader can choose where to focus. This format allows the reader to read the book while they write, rather than having to read the whole book beforehand.
The principles this book discusses apply to all forms of modern writing — blogs, email, letters, web sites and, yes, traditional legal writing. This book is not just for newer lawyers, but for any lawyer who wants to learn to write in a clean, modern style.
iPad/iPhone Version ($37.99)
Print Version ($79.95; $39.95 to $47.95 for ABA Members)
Steven D. Stark, Writing to Win: The Legal Writer (2d Edition 2012)
Thanks to computers and smartphones, communication in the workplace has probably changed more in the last decade than at any time in the last several centuries. Few read linearly any longer and we all read with far less absorption.
Learning to craft your message so it can be grasped quickly and still be memorable is far more difficult than before. This book will help provide the tools that enable you to do so.
Kindle Version ($12.99)
Print Version ($13.98)
Did You Miss Part 1?
Read The SmallLaw 2012 Summer Reading List Part 1 now.
How to Receive SmallLaw
Small firm, big dreams. Written by practicing lawyers who manage successful small firms and legal technology and practice management experts who have achieved rock star status, this newsletter provides practical advice on management, marketing, and technology issues in small law firms, as well as comprehensive legal product reviews with accompanying TechnoScore ratings. The SmallLaw newsletter is free so don't miss the next issue. Please subscribe now.