Today's issue of TL NewsWire covers a cloud billing application (see article below), an iPad app for voir dire, a PDF watermarketing utility, database software, and a collaborative multi-platform notebook. Don't miss the next issue.
Cloud Billing Application Emphasizes Efficiency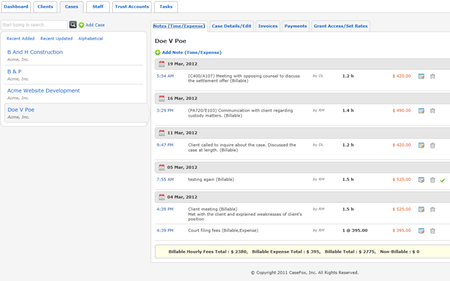 Does the world need another cloud billing application? What if Bill Gates thought the world already had enough word processors? Or if Steve Jobs decided that plenty of smartphones already existed? There's always room for new products that break new ground or have some other competitive advantage. Cloud applications are particularly appealing to entrepreneurs because they're easy for lawyers to try and have low switching costs. Into this milieu arrives a new entrant contending for the legal billing crown.
CaseFox … in One Sentence
CaseFox is a cloud billing and trust accounting application.
The Killer Feature
Nowadays, even small firms use contract lawyers. CaseFox enables you to create different role-based user accounts. For example, you might give partners access to all matters, associates access only to their matters, and contract lawyers only the ability to enter their billable time.
You need not create these privileges each time you set up a new user. Instead, you define user types (roles) when setting up CaseFox. You then place each new user into the appropriate role, automatically restricting each user according to that role's predefined settings.
Other Notable Features
CaseFox's developers assumed that lawyers track their time in different ways ranging from paper to timers to automatic time capture programs. Thus, instead of creating time-tracking tools, the developers instead focused on making time and expense entry and bill creation as efficient as possible.
Entering time and expenses requires just a few clicks. The application supports UTBMS codes plus you can create your own custom shortcuts. Billing partners can transform approved time and expense entries into invoices in two clicks. If not submitting electronically via LEDES, you can export invoices in PDF format for emailing or printing. Bills can display trust account balances, past due amounts, partial payments, discounts, and more.
In addition to its core financial feature set, CaseFox also offers document and practice management. Each matter can have associated calendar events, contacts, documents, notes, and tasks. If you use Google Apps, calendars, contacts, and tasks can sync with your Google account.
As you would expect, CaseFox offers a customizable dashboard. The application uses 256-bit encryption, and works in both desktop and mobile web browsers.
What Else Should You Know?
CaseFox offers four plans — Basic (free), Silver ($10 per month), Gold ($20 per month), and Platinum ($35 per month). The latter three plans differ by the number of matters, but they all provide for unlimited users (the free plan is limited to 1 user). Learn more about CaseFox.
How to Receive TL NewsWire
So many products, so little time. In each issue of TL NewsWire, you'll learn about five new products for the legal profession. Pressed for time? The newsletter's innovative articles enable lawyers and law office administrators to quickly understand the function of a product, and zero in on its most important features. The TL NewsWire newsletter is free so don't miss the next issue. Please subscribe now.