Today's issue of TL NewsWire covers a new tablet (see article below), software for running Windows on a Mac, an electronic signature service, a legal human resources database, and a knowledge management system. Don't miss the next issue.
Burn Through Some Books and the Web
The consumer electronics industry is both predictable and perplexing. For example, every few years Apple releases a new class of product (e.g., iPad). The rest of the industry then rushes copycat products to market, but fails to understand what makes the Apple product resonate. That's the predictable aspect. The perplexing aspect — why ship a me-too product only to have it panned by critics? Innovation requires deep thought, which requires time. Also, rushing into a new product category often results in ignoring your cash cow. Can anyone explain why RIM sells a tablet running QNX but won't offer QNX smartphones until 2012? Of course, there is one company that took (a little) more time. This company unveiled its latest and greatest gizmo here in Manhattan today.
Kindle Fire … in One Sentence
Available for pre-order now and shipping in November, Amazon's Kindle Fire is a color touchscreen tablet.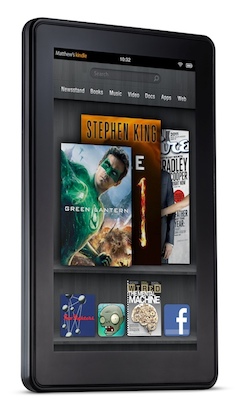 The Killer Feature
The most important app on a smartphone is email, but the most important app on a tablet is the web browser. Amazon's previous e-ink Kindles were great for reading books, but not for using the Web.
Enter Silk, the web browser on the Kindle Fire. Silk makes extensive use of Amazon's cloud storage technologies to speed up web browsing. It not only caches images and other files associated with a web site, but it also stores information about web usage patterns so it can anticipate where you're likely to go next. Thus, it can begin delivering a web page to your Kindle Fire before you click on the link to that page.
Other Notable Features
The Kindle Fire costs $199, features a 7-inch color touchscreen, and weighs just shy of one pound. It includes 8 GB of storage and unlimited cloud storage. You don't need a computer to use the Kindle Fire, but you'll need a WiFi network. The battery will run for 7.5 hours of video playback — longer for less intensive activities. It has a headphone jack and a USB port.
As you would expect, the Kindle Fire includes an app for reading ebooks and PDF files as well as apps for email, magazines, music, and videos. And you can of course buy digital media from Amazon directly on the Kindle Fire. You can also use some Android apps since the Kindle Fire runs on a variant of Android (this feature should enable you to download an ereader such as Aldiko that supports EPUB). Amazon Prime, which costs $79 per year, entitles you to a growing library of streaming movies and TV shows (similar to Netflix).
What Else Should You Know?
Amazon also released three e-ink Kindles today — an old school Kindle sans keyboard ($79), and a Kindle touch ($99) and a Kindle touch 3G ($149). Learn more about Kindle Fire.
How to Receive TL NewsWire
So many products, so little time. In each issue of TL NewsWire, you'll learn about five new products for the legal profession. Pressed for time? The newsletter's innovative articles enable lawyers and law office administrators to quickly understand the function of a product, and zero in on its most important features. The TL NewsWire newsletter is free so don't miss the next issue. Please subscribe now.