Originally published on April 5, 2011 in our free BigLaw newsletter. Instead of reading BigLaw here after the fact, sign up now to receive future issues in realtime.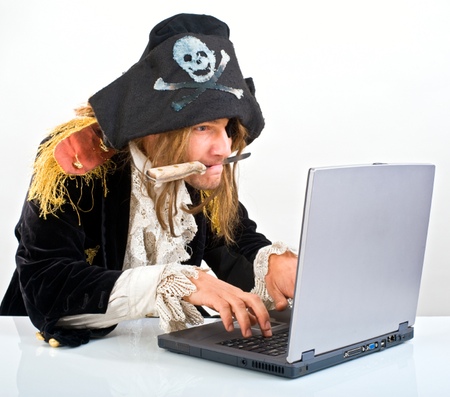 Leading a large law firm is similar to steering a ship. If you navigate in the wrong direction, or don't have a clear idea of your destination you may never arrive. It is difficult but not impossible to lead when headed into the unknown (think Christopher Columbus). Creating a social media policy presents a challenge for leaders like you because you may lack the time to become completely versed in all the technology that exists. So to make it easier, I have simplified social media policies by comparing them to three classic films. Which movie does your social media policy most closely resemble?
Footloose (1984): Complete Prohibition
In Footloose, Kevin Bacon's character moves to a small, conservative town that has outlawed dancing and rock music. The town has clearly gone too far, but it isn't until the local Reverand (played by John Lithgow) sees townsfolk burning books that he realizes his policy needs a rethink.
Does this prohibition sound like your firm's policy towards social media? I remember when I first starting writing about social media over two years ago and spoke with a friend at a top law firm in Manhattan. I asked him, "What's your firm's policy towards social media?" His answer, "No social media."
You can call this the "Footloose" policy, or if you prefer the movie "Witness" the "Amish" policy, but whatever you call it, it's not an an effective policy for a modern law firm. Statistics from Greentarget, the ABA, and ALM Media all demonstrate that large communities of in-house lawyers across all ages use social media. A complete prohibition of these tools is archaic at best.
A Few Good Men (1992): Too Much Control
Led by an all-star cast of Jack Nicholson, Tom Cruise and Demi Moore A Few Good Men involves a trial in which two soldiers stand accused of murdering a fellow Marine of their unit. The two soldiers hazed a soldier who had failed to respect the chain of command by blowing the whistle on his superiors.
In the military, chain of command is extremely important to keeping our country safe. In the film (without ruining the ending for those who haven't seen it yet), the chain of command fails to protect an innocent soldier. In law firms, "chain of command" means "control the message."
"No tweets, posts or messages may be shared without approval by a partner level attorney and a review by the Public Relations, Communications, and Marketing Committee."
Does this rule sound like your firm's social media policy? I call this policy "A Few Good Men" because only a few individuals in your firm are allowed to speak or approve speech of those using social media. I've compared this policy to a cocktail party at which an associate must text the managing partner before making any comments or engaging in conversation to make sure everything he says is approved.
Such a policy would be impractical, nonsensical, and serve no purpose. You trust your associates to attend social gatherings without revealing client confidences, inadvertently creating attorney-client relationships, and violating ethics laws with regard to solicitation. So why not trust your associates online?
Perhaps the permanence of the online world terrifies you. But that's just a matter of proper training to ensure that your lawyers can handle social media.
Pirates of the Caribbean (2003): Sensible Guidelines
Just when we thought Disney was incapable of making a quality live-action movie, it surprised everyone with Pirates of the Caribbean starring none other than Johnny Depp. In this movie we learn a lot about Pirates and their code.
One interesting rule is that of "Parlay." When a prisoner invokes this code, the pirates must provide free passage to negotiate with the ship's captain. According to Captain Barbossa (played by Geoffry Rush), "the code is more what you'd call 'guidelines' than actual rules."
I hesitate to ask the world's largest law firms to take queues from pirates, but "guidelines" make way more sense than a policy that reads like a statute. Here's why. Technology is changing rapidly. As soon as a law firm's multiple committees meet to discuses, draft, re-draft, and vote to approve the social media policy it's out-of-date.
It is far more practicable to put together guidelines for any online behavior. A good social media policy will accomplish two objectives — protect the firm and empower the lawyers. A policy full of "thou shall not" language should be tempered with guidance on how to engage in social media in an effective manner.
On With the Show
So what's it going to be for your firm? Complete prohibition like in Footloose? Only allowing a one or two messengers like in A Few Good Men? Or will you teach your lawyers, provide them with guidelines, and trust that they won't organize a raiding party? As the captain, you need to make the right social media decision, or your ship may end up in Davy Jones' Locker.
Written by law firm social media expert Adrian Dayton.
How to Receive BigLaw
Many large firms have good reputations for their work and bad reputations as places to work. Why? Answering this question requires digging up some dirt, but we do with the best of intentions. Published first via email newsletter and later here on our blog, BigLaw analyzes the business practices, marketing strategies, and technologies used by the country's biggest law firms in an effort to unearth best and worst practices. The BigLaw newsletter is free so don't miss the next issue. Please subscribe now.