Originally published on February 22, 2010 in our free BigLaw newsletter. Instead of reading BigLaw here after the fact, sign up now to receive future issues in realtime.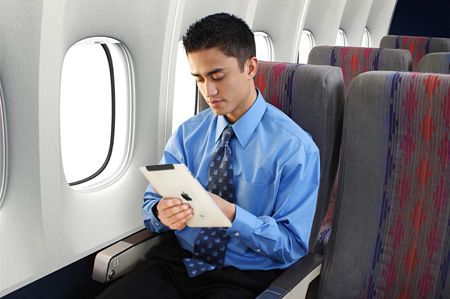 Some large firm lawyers tend to travel more than others. I don't travel much, but when I do I like to travel light. However, because I'm technically "on the clock" during a five hour flight between coasts, I prefer to use the time to review documents in preparation for my upcoming meeting or hearing. But the number of documents required to consume five or more hours of flight time would take up a lot of room. What to do?
GoodReader and Its Brethren to the Rescue
Last fall, while preparing for a trip from Los Angeles to Seattle, I planned to take along more than 750 pages (measuring four inches thick when printed) of discovery responses to review on the plane. I didn't want to take that much paper with me nor did I want to take my laptop solely for the purpose of using Acrobat. I considered abandoning the whole idea of working on the plane in favor of watching a movie on my iPad when I realized that, maybe, I could upload the documents to my iPad.
The solution ended up being an App Store download away. I bought an app for my iPad called GoodReader, which has since become the single most important and most often used "law practice" application on my iPad. GoodReader is just one of many document readers available for the iPad. Regardless of what mobile platform you use (Android, BlackBerry, iOS, etc.) many reasonably-priced and well-designed document readers exist (I list a few at the end of this column).
How to Evaluate a Mobile Document Reader App
Mobile document readers perform two core functions: (1) display the most common types of documents (PDF, Microsoft Office, iWork, TXT, RTF, etc.), and (2) provide a file management system to keep these documents organized.
In terms of displaying documents, the ability to quickly and cleanly display very large PDF files is by far the most important feature. GoodReader handled my 750-page document with absolutely no problem. Navigation between consecutive pages is accomplished by finger swipe or tap. You can also scroll though the entire document in seconds using a scroll bar.
The developers of these document readers have added a number of useful features, the most welcome of which is the ability to annotate PDF documents. Here, again, GoodReader excels. It enables you to insert text notes, highlight text in a variety of colors, underline or circle text, and bookmark pages just to name a few.
As for the document organization component, loading documents onto the device is the most important feature to evaluate. Generally, the app will provide several options — via iTunes, WiFi network, cloud service (e.g., Dropbox, Google Docs), FTP server, or a mail server (Exchange, IMAP, POP3). GoodReader not only accommodates all of these methods, but also enables you to download documents into the application from the Web by entering the a document's URL.
In addition, most mobile document readers provide the ability to create folders for storing documents. GoodReader, for example, provides lots of file management tools, facilitating copying, moving, and deletion of files, creation of folders, password protection, archiving (ZIP files), and emailing of documents.
GoodReader Alternatives Worthy of Consideration
Although GoodReader is one of the best document readers, several worthy alternatives exist. For iOS devices, two close competitors to GoodReader are Air Sharing and ReaddleDocs.
Popular choices for the Android-based devices include RepliGo Reader and Quickoffice Connect Mobile Suite.
RepliGo Reader is also available for BlackBerry.
Written by Dan Friedlander of LawOnMyPhone.com.
How to Receive BigLaw
Many large firms have good reputations for their work and bad reputations as places to work. Why? Answering this question requires digging up some dirt, but we do with the best of intentions. Published first via email newsletter and later here on our blog, BigLaw analyzes the business practices, marketing strategies, and technologies used by the country's biggest law firms in an effort to unearth best and worst practices. The BigLaw newsletter is free so don't miss the next issue. Please subscribe now.