CURRENT MEMBERSHIP:

11,639

In today's typical law firm, Microsoft dominates both the back office (e.g., Microsoft Exchange) and the front office (e.g., Microsoft Word and Microsoft Outlook). But when lawyers leave the office, they increasingly work on smartphones and tablets — two fast-growing markets in which Microsoft lags behind Apple and Google. Can Microsoft win the legal industry's mobile race despite its late start?

Our free TL Research report answers this important question by analyzing historical and current data. Nine charts, some of which contain information never published elsewhere, make it easy to visualize the data and understand the report's central thesis — relative financial superiority.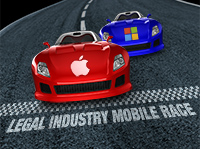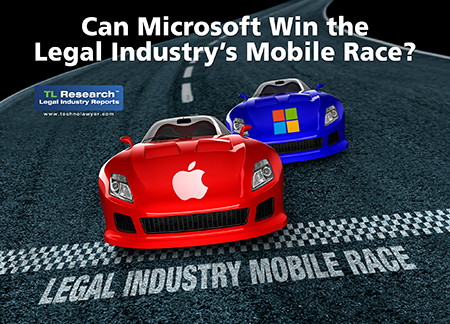 Analysis and entertainment need not be mutually exclusive. Starting in 1991 with a cast of characters that includes Amazon, Intuit, Lotus, Netscape, Research in Motion, WordPerfect, and of course Apple and Google, Can Microsoft Win the Legal Industry's Mobile Race? reads like a brainy thriller that will have you guessing until the end. What's more, relative financial superiority applies to law firms too so you'll better understand your own market dynamics. Plus we've bundled a surprise gift with the report.

How to Download Your Free Copy

If you're a TopLaw member, click here to download your free PDF copy from the TopLaw Library.

Not a TopLaw member? Use the form on this page now to join TopLaw for free. After joining, you can download a free copy from the TopLaw Library. You can also choose to receive one or more of our award-winning email newsletters, all of which are free.