CURRENT MEMBERSHIP:

11,654

Over the years countless people have described lawyers as technology laggards. We believe the word epicurean better describes them. Give lawyers easy-to-use technology and they'll become early adopters. For example, lawyers became fast fans of technologies such as car phones, cell phones, BlackBerrys, iPhones, and most recently the iPad.

In this TL Research report, TopLaw publisher Neil Squillante answers the following question: Can the iPad mini make you and your law practice more productive?

Unlike reviews in the mainstream media, Neil's in-depth report evaluates the iPad mini as a serious productivity tool, including extensive reviews of several productivity apps with accompanying screenshots. For example, Neil wrote this TL Research report on his iPad mini so that he could tell you which plain text word processing app works best.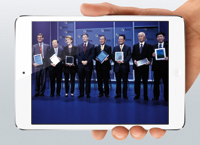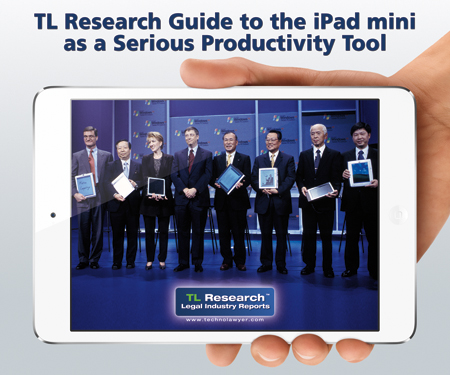 Here's the Table of Contents:

1. Which iPad mini, How Many, and Setup Tips
2. Thumbs Up: Two Text Editors in Depth
3. Paper Replacement Part 1: Handwritten Notes
4. Paper Replacement Part 2: Reference Materials
5. The Indispensable App for Lawyers Who Hate Math
6. Look Sharp Carrying Your iPad mini
7. We're Just Getting Started

How to Download Your Free Copy

If you're a TopLaw member, click here to download your free PDF copy from the TopLaw Library.

Not a TopLaw member? Use the form on this page now to join TopLaw for free. After joining, you can download a free copy from the TopLaw Library. You can also choose to receive one or more of our award-winning email newsletters, all of which are free.