LAWCLERK Expands to Serve Law Firms With Long-Term Lawyer Outsourcing Needs
September 18, 2023
LAWCLERK is the leading online platform for freelance lawyers and remote associates, offering a variety of outsourcing options for short- and long-term contract legal work. Read our new TechnoLawyer Buyer's Guide report below.
LAWCLERK Expands to Serve Law Firms With Long-Term Lawyer Outsourcing Needs
LAWCLERK launched with freelance lawyer outsourcing for one-off projects in 2018 (see our report). The company has since broadened its offerings to serve law firms that need regular and/or long-term work. LAWCLERK has arguably become the category killer — the eBay of freelance lawyers. For example, a competitor that emerged in 2021 shut down a few months later, unable to gain traction despite winning the ABA TECHSHOW Start-Up Competition.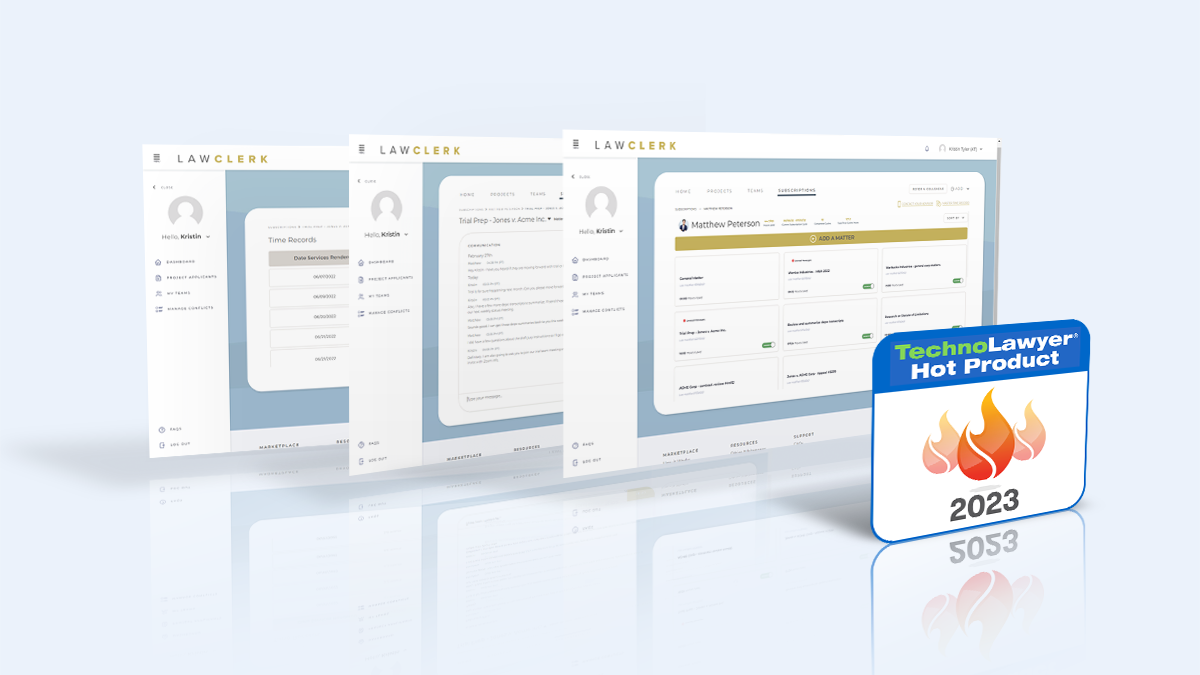 The Killer Feature
LAWCLERK offers two solutions for long-term and continuous work:
Hourly Associates — Designed for tasks with an unpredictable scope such as discovery and due diligence, this service lets you pay remote associates by the hour.
Remote Associate Subscription — Designed for matters with a determinate volume of work, you can choose from three pricing tiers. The subscription service requires a minimum commitment of at least 30 hours per week. You can terminate a subscription with a two-week notice.
Both options eliminate the financial risk of a full-time associate. They also enable lawyers in rural and remote areas to hire legal talent unavailable locally. Conversely, LAWCLERK provides work-from-anywhere freedom to lawyers not currently in a traditional law firm. This can range from young lawyers traveling the world to semi-retired lawyers who want to practice on their own terms.
A case in point — a solo in Northern California now earns more after switching from full-time employees to LAWCLERK's Remote Associate Subscription. For one project, he hired five remote associates for 20 hours per week to file more than 2,400 wildfire claims, which would have been impossible with his firm's previous structure.
"Our subscription-based program is a total game changer for solo attorneys and small law firms," says LAWCLERK co-founder Kristin Tyler. "Working with a subscription based remote associate gives you the flexibility to grow and scale your firm in an affordable way with no overhead."
Other Notable Features
LAWCLERK still provides project-based freelance work. You can get a freelancer started on a project within hours. For hourly and subscription associates, LAWCLERK provides an advisor free of charge to help you vet applicants. "Our team streamlines the process to get started, which is a huge advantage compared to the headache and hassle of the traditional hiring process," says Tyler. This process takes a day or two after which you typically end up with 4-6 candidates.
LAWCLERK recently saved the day for Serena Cooper, an associate at Cooper Coons in Las Vegas. "I contacted LAWCLERK on a Tuesday as one of our associates suddenly had to take extended medical leave," says Cooper. "Two days later, my LAWCLERK Advisor presented me with six Virtual Associate applicants based on the criteria I had provided. We set up interviews and although we initially set out to hire one, we ultimately hired two. Our virtual associates were up and running by the following Monday. We've had a great experience! It has been wonderful to adjust our virtual associates' subscription hours with the ebbs and flows of our workload."
The LAWCLERK platform includes secure chat and videoconferencing so that you and the freelance lawyers you interview and work with need not fuss with third-party tools. LAWCLERK also provides tools for billing and project management. You can create one or more matters for sharing documents and for your virtual team to log their time.
LAWCLERK integrates with Clio or you can export time records as a CSV file to import into any billing application. Ethics rules allow lawyers to markup outsourced legal work. One solo reported earning $7,000 more per month by marking up the work performed by his LAWCLERK remote associate.
If you use LAWCLERK for multiple practice areas, you can create different Teams to organize all your matters and remote associates. You can also "favorite" your preferred remote associates to prioritize delegation.
What Else Should You Know?
LAWCLERK is compliant with the ethics rules in all 50 states. Whether you want to hire freelancers or become a freelancer yourself, LAWCLERK verifies the licensure status of all participating lawyers on its platform. This is not the case with nonspecialized freelance platforms.
Take a Closer Look at LAWCLERK