Interaction+ CRM Software Leverages LexisNexis Content to Identify Client Development Opportunities
July 25, 2023
InterAction+ from LexisNexis is cloud-based client relationship management (CRM) software that helps law firms identify opportunities via integrations with LexisNexis content and data. Read our new TechnoLawyer Buyer's Guide report below.
Interaction+ CRM Software Leverages LexisNexis Content to Identify Client Development Opportunities
CRM software helps you track opportunities but it doesn't help you identify opportunities. Unlike standard CRM products, InterAction+ leverages LexisNexis legal content and data to help you prospect for new business from both existing and prospective clients that may benefit from your firm's capabilities.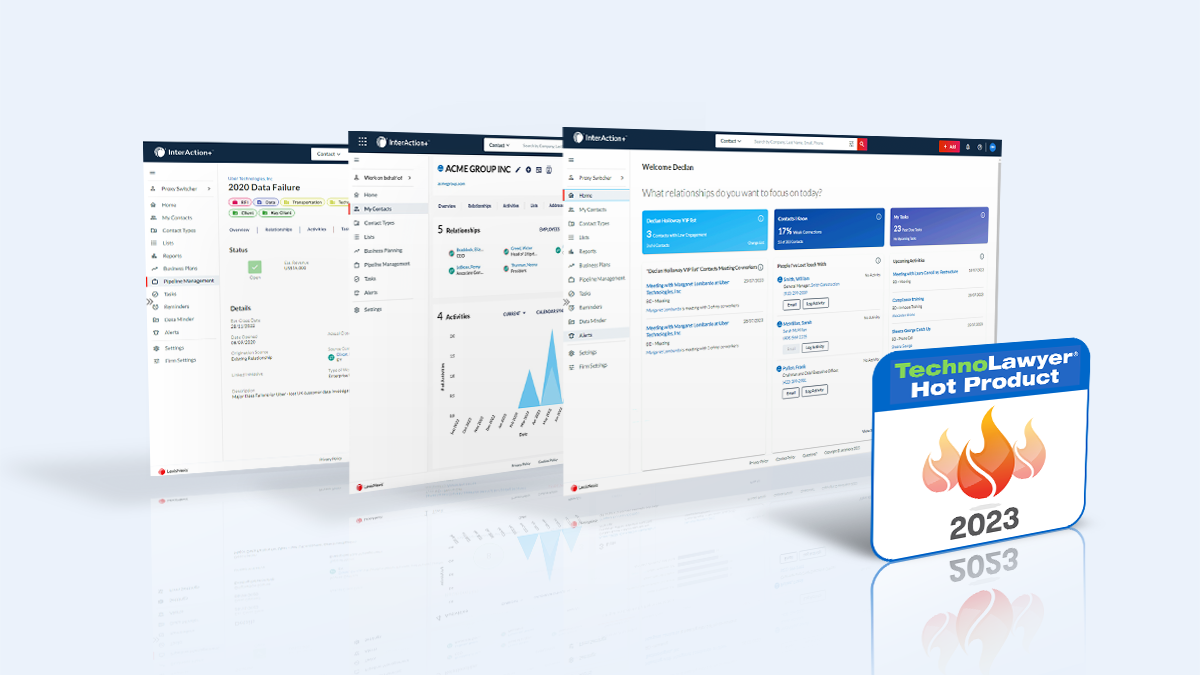 The Killer Feature
InterAction pioneered CRM in the legal industry. The current version of the Windows application remains in use at many firms. Launching today, InterAction+ was built from the ground up for the cloud with a modern user interface and is designed to tackle the fundamental shortcoming of all CRM software — the lack of data for prospecting.
InterAction+ brings this capability to legal CRM software for the first time thanks to key integrations with LexisNexis content, including the following:
InterAction+ lists litigation activity for clients and prospects using data from Company Analytics (one of the Context tools on the Lexis+ platform). You can sort this information by outside counsel, practice areas, and jurisdiction, and drill down further in Context with one click.
A similar integration with Nexis Newsdesk adds links to news articles on the web related to clients and prospects you're tracking in InterAction+.
Using the Business Planning tool in InterAction+, you can create Initiatives based on new business ideas from this content. Each Initiative lists colleagues involved, existing relationships with target companies, and associated tasks, activities, and opportunities. The Pipeline Management tools track each stage of an opportunity until it hopefully results in an engagement. Tasks, which you can assign, keep related activities moving along.
Aja Hendrix, Marketing Technology Manager at Pillsbury Winthrop Shaw Pittman LLP, credits InterAction+ for driving business development. "We have experienced a significant increase in repeat or add-on business," says Hendrix.
"InterAction+ provides an enhanced user experience, robust control over firm data, and is the only platform to offer insights driven by LexisNexis content to support crucial business development and marketing activities," says LexisNexis Chief Product Officer Jeff Pfeifer.
Other Notable Features
Another problem with traditional CRM software is the complexity, which can require too much time for even experienced users. InterAction+ seeks to provide tools that enhance marketing productivity while minimizing the time commitment from users.
One such tool is the Contacts I Know widget on the Home dashboard, which lists key contacts who might need attention. Click on the accompanying Email button to send a message inquiring about any new needs, share your most recent client memo, etc. There's also a Log Activity button for those you call or meet in person.
The Home dashboard also lists your tasks and a watchlist that tracks recent activities related to opportunities. Instead of visiting the dashboard, you can elect to receive a Daily Digest email message to keep you apprised of this information.
At its core, InterAction+ stores companies and contacts with specialized sections for each. Because LexisNexis possesses data on many corporate entities, InterAction+ can recognize companies you add and populate relevant fields, saving time and eliminating errors. Contact Types let you create categories to distinguish among clients, prospects, referral sources, etc. You can leverage all this data by creating Lists to group contacts for targeted email outreach such as newsletters, event invitations, holiday greetings, and more.
Because email is so central to client development, LexisNexis offers a free Microsoft 365 add-in that brings InterAction+ data into Microsoft Outlook. Click an email message to view related activities, tasks, Newsdesk news, and more in the InterAction+ panel. You can also log email messages with one click, and sync events bidirectionally between InterAction+ and your Outlook calendar.
What Else Should You Know?
The LexisNexis product switcher tool uses Single Sign-On technology, allowing you to seamlessly navigate between InterAction+ and integrated LexisNexis services. This same login also works for the accompanying InterAction+ Android and iPhone apps that mirror the functionality of the web platform.
Take a Closer Look at InterAction+